Honorary Certificate in Applied Politics
The Bliss Institute awards the Honorary Certificate in Applied Politics to one Democrat and one Republican who have demonstrated outstanding service to the democratic process. The award recipients are chosen by past honorees.
Congratulations!
2023 Honorary Certificate Recipients
Janet Weir Creighton
Board of Stark County Commissioners
and
Mary Ellen Withrow
40th Treasurer of the United States
The recipients were honored at a reception
in Columbus on May 9, 2023
See event program and biographies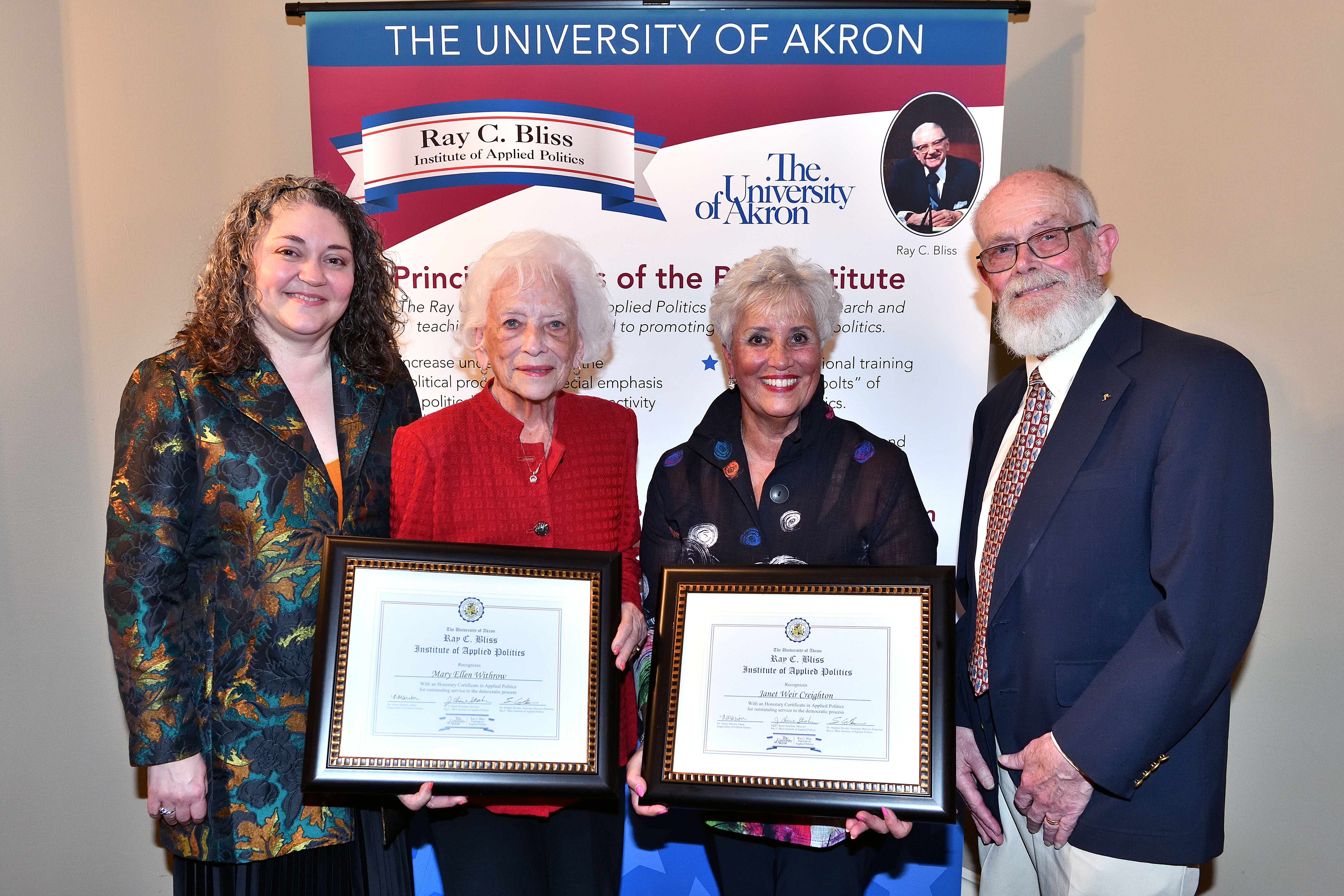 From left: Dr. Cherie Strachan, Bliss Institute Director; Mary Ellen Withrow, award recipient; Janet Weir Creighton; and Dr. Stephen Brooks, Bliss Institute Associate Director Emeritus.
---
Certificate in Applied Politics
The Bliss Institute and the Department of Political Science offer a Certificate in Applied Politics (CAP) to graduate and undergraduate students focusing on practical politics and experiential learning. It is designed for students interested in election campaigns, digital strategy and messaging, fundraising, managing organizations, and other political activities. All applied politics classes are delivered synchronously or asynchronously online making residency in Northeast Ohio optional.
See all of our academic opportunities.
---
CONTACT US
Ray C. Bliss Institute of Applied Politics
The University of Akron
Olin Hall 325 (see campus map)
Akron, OH 44325-1914
Office: 330-972-5182
Fax: 330-972-5479
Email: bliss@uakron.edu