Buchtel College of Arts and Sciences
Graduates from The College of Arts & Sciences.
Research Spotlight: Psychology and Computer Science
Researchers Use Xbox Technology for Engineering Education
A team of University of Akron researchers is using Microsoft's Kinect™ sensor device for Xbox to show how it can transition from the family room to the classroom. Dr. Yang Yun, associate professor of biomedical engineering; Dr. Philip Allen, professor of psychology; and Dr. Yingcai Xiao, associate professor of computer science, are developing an educational tool that uses Kinect™ to noninvasively stimulate the visual center of students' brains to help them comprehend engineering principles. Learn More
---
Student Spotlight
Summer study abroad trip to Japan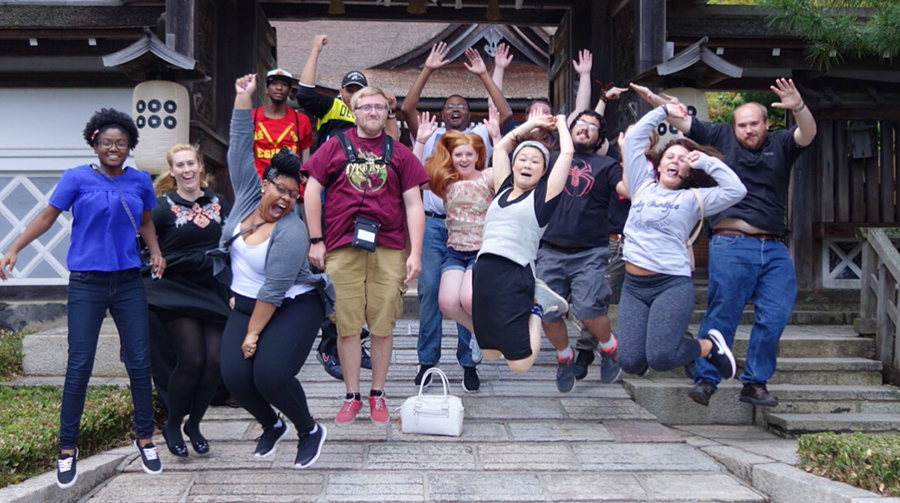 Students from UA's Modern Language Department, lead by senior lecturer Yuki Fujiwara Sigler, are participating in the department's first study abroad trip to Japan.
The 14-day trip, kicked off May 23, offered the 14 students an opportunity to experience and immerse themselves in Japanese culture by solving real world tasks along with historical place visitation and cultural experience. Places visited include Kyoto, Hiroshima, Osaka, Tokyo, and many more.
---
News archive