What is Direct Connect?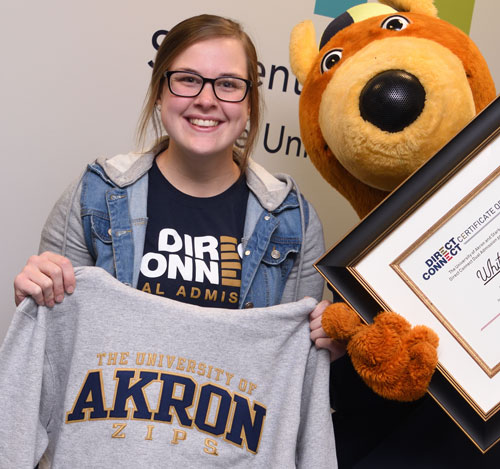 Whitney Tarr is the first Stark State student to transfer to UA through the Direct Connect partnership.
Complete your associate's degree at Stark State College (SSC), with the intent to transfer here to The University of Akron (UA) to complete your bachelor's degree.
Benefits:
You will receive academic support and transfer services from both institutions to create a guided pathway for your transition from SSC to UA.
You will have the opportunity to take make connections with campus departments and resources
You will be able to take advantage of amenities at both institutions including libraries, career services, computer labs, sporting events, parking, email, and more!
Is Direct Connect the right path for you?
There are two paths you can take to transfer to UA. Direct Connect allows you to plan ahead to maximize your time at both Stark State and UA. However, if you are nearing program completion or are not planning to complete an associate's degree, our traditional transfer process is likely best for you.
Contact UA's Transfer & Adult Enrollment Center to get started or to discuss if Direct Connect is right for you. Email transfer@uakron.edu or call 330-972-7009 today.
Eligibility
You can join Direct Connect Dual Admission directly out of high school OR if you are already currently enrolled at Stark State College.
You are eligible for participation if you are…
You are

not

eligible for participation if you are…
Currently an SSC student or a new student planning to earn your associates at Stark State College. New students must meet standard admissions requirements for SSC.
Currently a College Credit Plus (CCP) student. Students become eligible to participate after you graduate from high school.
A student planning to transfer to The University of Akron to pursue your bachelor's degree.
A student who has previously attended The University of Akron.
A student who has already earned a bachelor's degree.
What's your next step?
How to join Direct Connect
If you are currently enrolled at SSC, complete the Direct Connect Participation Form.
If you are not yet enrolled at SSC, start a conversation with a team member from UA's Transfer & Adult Enrollment Center, call 330-972-7009 or email transfer@uakron.edu.
The application fee for UA is waived for Direct Connect Dual Admission participants.
Transfer seamlessly
When you participate in the Direct Connect Dual Admission program, you will sign an agreement to allow your education records information to be shared between SSC and UA, in manners consistent with information security requirements. This allows both institutions to work together in an effort to support your seamless transition starting at SSC and finishing at UA.
The application fee for UA is waived for Direct Connect Dual Admission participants.
As a participant, you must:
Plan to complete your associate degree at SSC, while purposefully planning to transfer to UA to complete your bachelor's degree.
Earn a minimum cumulative GPA of 2.0 and a minimum of 24 credit hours (non-developmental) at SSC prior to enrolling at UA.
Be in good standing at SSC.
Submit your UA Intent-to-enroll form one semester prior to transferring to UA.
What is the Direct Connect experience?
Begin connecting with UA's campus life, resources, and supportive staff while starting your journey at SSC and preparing to become a future Zip!
| | |
| --- | --- |
| | 1. Complete Direct Connect participation form. Again, this form allows SSC and UA to communicate with each other as we support your educational aspirations. |
| | 2. Attend your Direct Connect Welcome Event. During your welcome event, you will receive a Direct Connect Zip Card that will allow you to access services, resources, and select campus life events while attending SSC (e.g. libraries, computer labs, Zips sporting events, and more). |
| | 3. Check-in regularly with a UA academic advisor while you are enrolled at SSC to discuss coursework and degree progress. |
| | 4. Take advantage of select UA campus life events, services, and resources. |
| | 5. Work towards earning the Direct Connect Engagement Award. Participants who successfully check-in with their UA academic advisor, have a financial wellness meeting with a member of UA's Financial Aid office, and participates in campus life events can be eligible to receive the award covering the $100 Transfer Confirmation Fee. Students must fulfill award requirements by their final semester at SSC when submitting their Intent to Enroll form to UA's Transfer & Adult Enrollment Center. |
| | 6. In your final semester at SSC, complete UA's Intent-to-enroll form to begin your transfer to The University of Akron. |
Whitney's story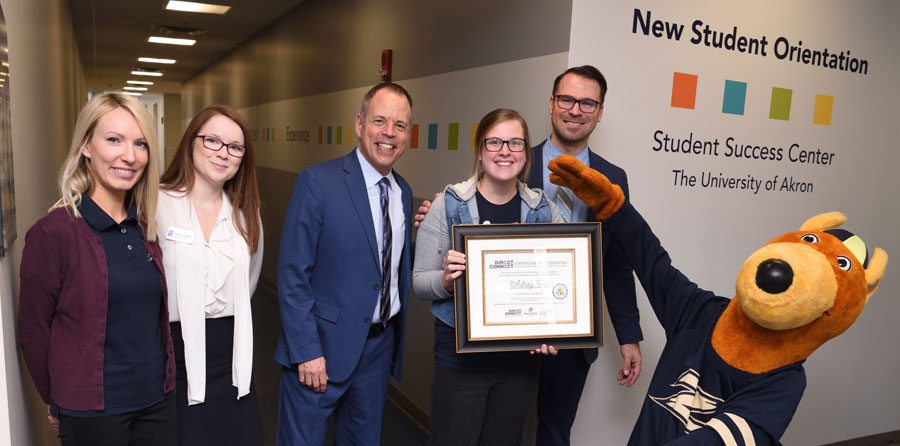 Whitney Tarr with UA's Transfer and Admissions team.
At first, Stark State College student Whitney Tarr was intimidated by the idea of transferring to The University of Akron.
"I felt anxious," she said. "UA is so big."
But she was surprised by how easy it was. And by how helpful everyone was.
Now Whitney is excited to start here in January. She will be the first Direct Connect student at SSC's Akron campus to transfer to UA.
Direct Connect makes it easy for SSC students to transfer here.
"I didn't know where I stood, what credits transfer or how I would pay for it," she said. Answers came in meetings with Sarah Hoge, an advisor in the College of Applied Science and Technology, and Jennifer Harpham, director of student financial aid.
A student-led campus tour gave her confidence that she could feel at home here.
Whitney received a $100 Direct Connect Enrollment Award for completing the advising and financial aid sessions, and attending a campus event (athletics, career fair, ZPN movie, etc.). All Direct Connect students are eligible for the award.
Whitney will take most of her classes online, giving her the flexibility to continue working full time. Still she'll be on campus a lot, attending football games and career fairs, and exploring the library, which she calls "ginormous."
"I'm looking forward to starting at Akron," Whitney said. "I really feel welcome there."
Questions?
To get started or to discuss if this is right for you, contact us anytime at transfer@uakron.edu.
---
Related: