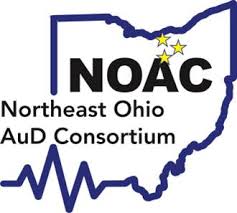 ---
Doctor of Audiology (Au.D.)
Program Overview
Curriculum Guide (Degree (Requirements)
The University of Akron and Kent State University, in affiliation with the Cleveland Clinic Foundation, have united to provide a professional Doctor of Audiology (AuD) degree program through the Northeast Ohio Au.D. Consortium (NOAC).
NOAC merges the strong assets of two university programs that focus on the scientific and clinical bases of audiology with the Cleveland Clinic Section of Audiology to provide students with exposure to the breadth and depth of diagnostic and rehabilitative audiology. We are dedicated to providing World Class Education in Audiology.
MORE: Admissions | Financial aid
---
***NOAC Audiology Virtual Open House***
Friday, November 19, 2021, 1:00-2:00 PM
Students interested in learning more about the Northeast Ohio AuD Consortium (NOAC) are invited to attend our Fall Virtual Open House scheduled for Friday, November 19, 2021 from 1-2 pm EST. A short presentation will be provided outlining how the consortium operates. Additionally, the Graduate Audiology Coordinators from Kent State University and the University of Akron will be available to answer specific questions about the admissions application process at both Universities.
The program faculty remain hopeful we will be able to hold our in-person visitation day scheduled for Friday, February 4, 2022. NOAC Visitation Day allows applicants to visit our campuses and meet directly with all the NOAC faculty. Hope to see you at our upcoming informational event!
Access the Virtual Meeting via Microsoft Teams
---
Accreditation
The Doctor of Audiology (Au.D.) education program at the Northeast Ohio Au.D. Consortium, is accredited by the Council on Academic Accreditation in Audiology and Speech-Language Pathology of the American Speech-Language-Hearing Association, 2200 Research Boulevard #310, Rockville, Maryland 20850, 800-498-2071 or 301-296-5700.
Please visit the NOAC website for additional accreditation information
---