The Audiology and Speech Center is OPEN for regularly scheduled appointments
The Audiology and Speech Center
The Polsky Building, Room 181
330-972-6035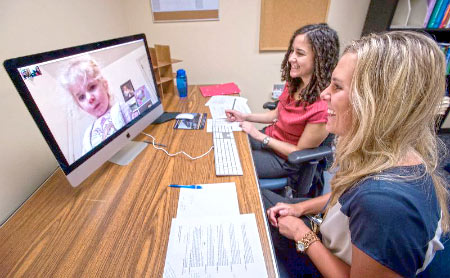 Clinical Services
The Audiology and Speech Center provides a full range of clinical speech, language and hearing services for children and adults in the Greater Akron-Canton area, the University community and across NE Ohio.

The Center is the training arm of the School of Speech-Language Pathology and Audiology. Clinical services are provided by graduate students in training, supervised by Ohio licensed and ASHA Certified speech-language pathologists and audiologists.
Audiology (Hearing) Services
Speech and Language Services

Auditory Processing Evaluations
Custom Hearing Protection
Specialty Ear Molds
(musicians' plugs, swim plugs, etc.)
Support and Community Services
(hearing screenings, speaker's bureau, etc.)
Tinnitus Assessment and Treatment
Audiologic Treatment

Articulation (speech sound) Disorders
Language Disorders
Support Groups
Fluency (stuttering) Disorders
Brain Injury
Neurological Speech Disorders
Voice Disorders
Stroke
Auditory - Verbal Program for Hearing Impaired
If you are in need of hearing aid repair service only, you may mail in your instrument(s) to our clinic to the following address:

Audiology and Speech Center




The University of Akron




Akron, OH 44325-3001

Please indicate what is wrong with the hearing aid(s) and your full contact information so that when we receive it we can contact you

Repair services are available M-F; however, turn around times will vary

For shipping your devices in the mail safely, you may secure the hearing aid(s) in empty pill bottles with cotton balls or wrap them in thin bubble wrap, and then secure and ship them in bubble wrap packaging or a small sturdy box

Our Mission
The mission of the Audiology and Speech Center is to provide education and training for undergraduate and graduate students enrolled in the clinical training program and to provide diagnostic, management, and treatment services to persons with language, speech, and/or hearing disorders and differences.
Audiology and Speech Center Outcomes
Improve the lives of consumers in Akron, Summit County and throughout Ohio by providing high quality, comprehensive, state of the art audiologic and speech-language services as measured by patient satisfaction surveys.
University of Akron student clinicians will obtain clinical experiences and competencies needed for state licensure, certification and employment as measured by exit interviews, exit surveys and employment surveys.
University of Akron students will obtain evidence based training in assessment and treatment of a variety of communication/hearing/balance disorders, service delivery models, business practices and case management procedures as measured by the Knowledge and Skills Assessment (KASA) competencies.
---
Policy of nondiscrimination in programs and activities
The University of Akron does not discriminate on the basis of sex, sexual orientation, race, color, religion, age, handicap, status as a veteran, or national or ethnic origin in the administration of its educational policies, admission policies, scholarship and loans programs, or other school-administered programs.
Information for non-English speaking clients