Nicole J. Hunka, Ph.D.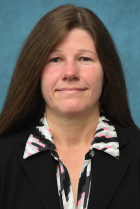 ---
Biography
Dr. Nicole Hunka has been teaching at the University of Akron for over 15 years and became a full-time faculty member in 2014. She earned a doctoral degree in Counseling Psychology and obtained additional clinical training in the area of Health Psychology. Dr. Hunka has over 13 years of clinical experience providing diagnostic and counseling interventions, as well as comprehensive psychological testing and assessment. She is passionate about raising awareness pertaining to chronic systemic inflammation, lifestyle and behavioral factors that contribute to inflammation, and its link to the development and amelioration of chronic diseases. Dr. Hunka maintains an active license as a professional counselor. She is also a certified personal trainer through the National Academy of Sports Medicine.
PROFESSIONAL INTERESTS
Health psychology
Chronic systemic inflammation and disease
Psychoneuroimmunology
End of life issues
College student success
RECENT PRESENATIONS
Hunka, N. (November, 2019). Chronic Inflammation and Integrated Behavior & Health. Presented at The Michigan Health Psychology Symposium. Howell, MI.
Hunka, N. (February, 2017). Facilitating College Student Success: Theoretical Integration for an Academic Goal-Setting Intervention. Presented at the NEXT Conference. Akron, Ohio.
---
Education
Ph.D. The University of Akron, Counseling Psychology
M.A. West Virginia University, Community Counseling
B.S. Slippery Rock University, Psychology
---
Courses
Human Relations
Death & Dying
Death & Dying for Healthcare Professionals
Integrated Human Behavior & Health
---