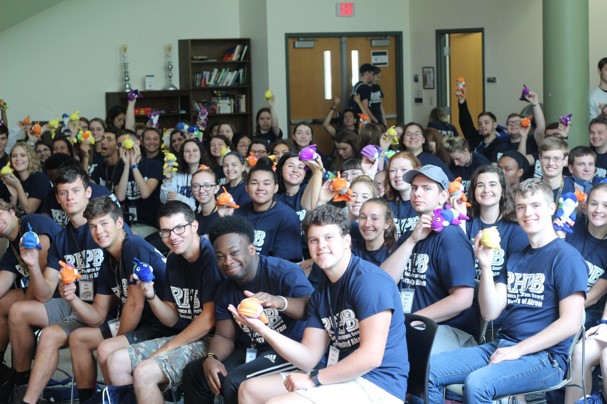 Emerging Leaders
Your path to leadership development, civic engagement and self-discovery
Our Emerging Leaders Program creates an opportunity for you and other first-year students to become actively engaged in the campus community through leadership development, civic engagement and self-discovery.
We will help prepare you for leadership roles on campus, on the job and in your community.
Program highlights
Qualifications
A minimum 2.5 cumulative high school GPA (minimum 3.5 cumulative high school GPA for UA's Williams Honors College).
Available to arrive to campus one week early for Leadership Training Week and Welcome Weekend.
Able to commit for a full year to the Program and Major Events Committee events.
Members of this community will need to register for the special fall Akron Experience: University 101 class, and the advanced Leadership Principles class in the spring.
Resident of either Ritchie Hall, Sisler-McFawn Residence Hall or 5th floor of the Honors Complex (pending Honors College acceptance).
Responsibilities of Major Events Committee include:
Welcome Weekend
Spring Welcome Back Show
Hall Fest
Benefits
Make new friends in a unique Learning Community
Award-winning leadership training
Membership in America's No. 1 Program Board (RHPB)
Work with great entertainers
Arrive to school early
Be a part of the University from the start!
---
How to Apply
Students interested in applying for the Emerging Leaders Program should first complete a housing application for the upcoming academic year. Students can access the housing application by signing into MyAkron and clicking on the MyHousing icon. Once in MyHousing select the upcoming academic year and complete the housing application including the required housing prepayment.

Once the housing application is completed, the student will be able to complete the "Personalize Your Experience" form. In the "Personalize Your Experience" form, students will be able to select the Emerging Leader program as their living learning community preference and get access to the Emerging Leader application.

Questions regarding the program should be directed to the Emerging Leaders Program Coordinator at emergingleaders@uakron.edu or 330-972-7800.
---
What do Emerging Leaders do?
Emerging Leaders take part in a specialized class called Akron Experience: University 101 in the fall and a Leadership Principles course in the spring, are mentored by upperclassmen student leaders within Residence Life and Housing, and come into The University of Akron already a part of the Residence Hall Program Board (RHPB) as a member of the Major Events Committee.
---