UA students find way to fight opioid crisis
11/25/2019
Losing a best friend at any age is painful, but when you are only 16, it can leave you shattered like nothing else.
University of Akron sophomores Maggie Weber and Hailey Vieltorf know that pain well — their best friend, Rachel DeMaio, died of an accidental drug overdose in 2016 after buying cocaine laced with carfentanil — a powerful synthetic opiod. As they grieved her, they also began healing by joining with Rachel's family and other close friends to launch Rachel's Angels. The organization is devoted to making a difference through anti-drug awareness and education programs targeting young people.
"When Rachel passed away the hurt and emotions involved were unthinkable, especially regarding the circumstances of her death," recalls Weber, a criminal justice major. "I knew I never wanted anyone to feel this way about a friend or family member passing away. With the help of Mrs. DeMaio and all of Rachel's friends, we knew we needed to spread the word about how dangerous the world of drugs can really be."
And so they are.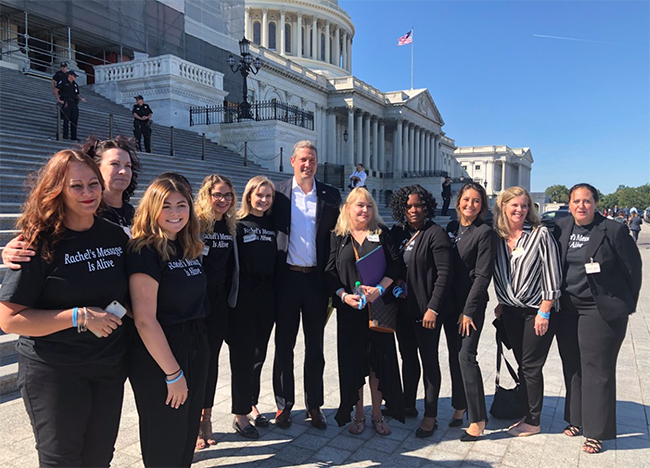 Members of Rachel's Angels are pictured here with Rep. Tim Ryan during their Washington, D.C. visit. Hailey Vieltorf is second from the left in the front while Maggie Weber is standing next to Ryan on the left.
Weber and Vieltorf, a psychology major, are among those presenting the Rachel's Angels Drugs = Death curriculum in classrooms throughout Northeast Ohio. And recently, they and two other members spoke about the mission of Rachel's Angels to the Congressional Addiction, Treatment and Recovery Caucus in Washington, D.C. They were there at the invitation of Rep. Tim Ryan, who had heard one of their presentations in Akron.
The young women, now all college students, also asked for funding to support their work and raised the idea of creating The DeMaio Law to increase the punishment for drug dealers convicted of selling to children and underage teens.
"Time really does heal wounds, and knowing that Rachel would be proud of what we are doing keeps me pushing for reform in this country," says Weber. "The University of Akron has also been very accommodating in helping us catch up on schoolwork, especially when we had to miss for our D.C. trip."
"It is definitely difficult to juggle school, a job, social life and other responsibilities, but my love for the subject and the outcome of our program keeps me going," notes Vieltorf, who, like Weber, has trained to be a certified peer educator for a collaborative effort between the Dean of Students Office and Health Services.
"Three years ago, I never thought that the death of my close friend would have turned into something that would save lives," Vieltorf continues. "It is an amazing feeling to know that we are making a difference in our community and I truly enjoy spreading Rachel's story every opportunity I get."