THE GRADUATE SCHOOL
Graduation information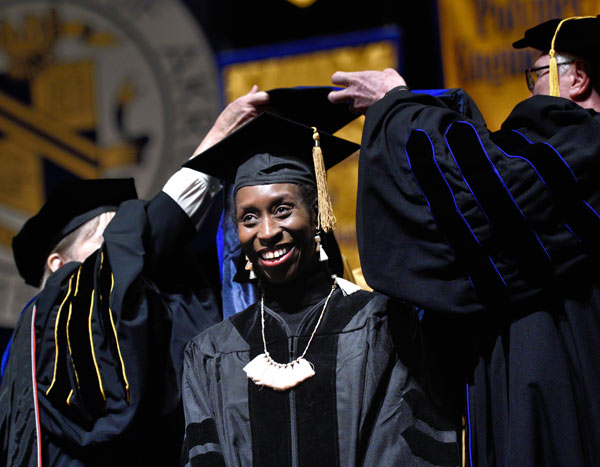 There are a number of things that every graduate student must do prior to graduation to assure that the graduation process goes smoothly. You may find it helpful to print this Graduation Checklist for All Graduate Students to help you along the way.
All students should view their academic record in DPR (accessible via My Akron) to ensure that they have met all degree requirements at least one semester prior to graduating. Any questions pertaining to the DPR report should be directed to the student's advisor.
All students will need to complete the UA Graduate School Exit Survey.
All students submitting a thesis or dissertation to the Graduate School must read and act in accordance with the Guidelines for Preparing a Thesis or Dissertation (see additional information below).
Ph.D. students must complete the "Survey of Earned Doctorates."
Should you wish to walk at the graduation ceremony, you will need to RSVP to the Office of the Registrar.
Additionally, in order to graduate, all graduate students must complete an online graduation application via My Akron by the due dates listed below to be considered for graduation or a certificate. The purpose of the application is to notify the Registrar of the student's intent to graduate. A student cannot graduate without having completed this form. The graduation application only needs to be completed one time. Should the student need to postpone and/or reinstate a graduation, he/she simply must notify the Graduate School. Students must be fully admitted and in good standing to apply for graduation.
Graduation application due dates
| | |
| --- | --- |
| Spring Graduation: | April 1 |
| Summer Graduation: | July 1 |
| Fall Graduation: | November 1 |
Related: Thesis and dissertation guidelines
---
Looking for information about grades, degree requirements and academic policies?
It's all in the Graduate Bulletin