Research Areas - What we do...
---
Environmental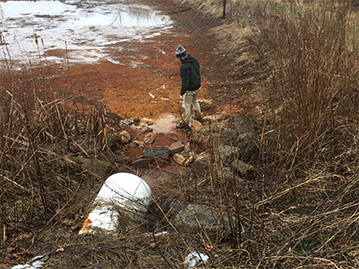 UA faculty and students conduct environmental research to understand and develop approaches to mitigate disturbances and contamination of land, water, and air.
Recent environmental research at UA includes the following:
Roles of microbiological activities and hydrologic processes in formation of caves and iron ore deposits
Determining mechanisms of and monitoring microbially influenced corrosion
Impacts of dam removal on river environments
Effects of changing human activities in watersheds on erosion and heavy metal pollution
Paleoclimate change and its underlying forcing mechanisms
The formation, environmental impacts, and mitigation of coalmine-derived acid mine drainage
Using geophysical approaches to characterize the shallow subsurface
Microbial activities and metal transformations in flue gas "scrubbers" at coal-fired power plants
Environmental researchers include Drs. John Peck, Ira Sasowsky, John Senko, David Steer, and Mr. Thomas Quick.
---
Surficial Processes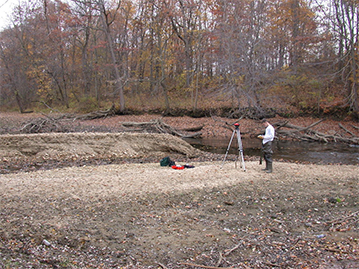 In addition to formal course work (e.g., sedimentology, geomorphology, hydrology, geochemistry, engineering geology, GIS, rivers seminar, coastal geology, caves seminar, exploration geophysics), UA faculty and students conduct research on variety of surficial processes. These studies characterize landforms (streams, lakes, beaches), the shallow subsurface (caves, groundwater), and Earth materials (water, soils, sediments) as well as quantify the natural and anthropogenic processes responsible for their formation and transformation.
Recent surficial processes research at UA include the following:
Formation of caves and cave sediments to understand denudation rates
Impacts of dam removal on river environments
Effects of changing human activities in watersheds on erosion and heavy metal pollution
Paleoclimate change and its underlying forcing mechanisms
Groundwater flow in karst
Surface processes researchers include Drs. John Peck and Ira Sasowsky.
---
Deep Earth Processes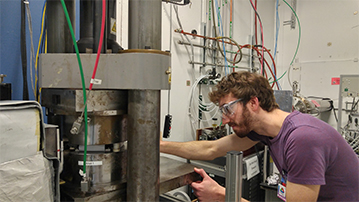 UA students and faculty investigate the structures and processes operating in the deep Earth using remote geophysical techniques, field-based investigations of deformed rocks and by performing deformation experiments at high pressures and temperatures on Earth materials. We use remote sensing techniques such as reflection seismology and electrical conductivity to determine the structures in the crust and mantle. We also have a high-pressure/temperature rock deformation laboratory to perform experiments in order to determine how the atom-scale processes operating in minerals affect tectonic-scale processes.
Recent Deep Earth processes research at UA includes the following:
Structure of the crust and mantle beneath the Ural mountains.
Pressure sensitivity of magnesite strength and its impact on deep focus earthquake nucleation
Effect of foliation orientation on the strength of rocks
How water content affects the strength of quart single crystals
Mechanisms of strain localization in granitic rocks
Deep Earth processes researchers include Drs. Caleb Holyoke and David Steer.
---
Facilities - Where we do it...

Computer Labs
Research and teaching computer laboratories with multi-media computers with direct internet connections.
Petroleum geology and computer mapping software (Kingdom Software)
Access to GIS software (Arcinfo) through a university site license.
Digitizers, digital cameras, large format and slide scanners for image processing.
Large format color ink jet plotter for map production and poster presentations.
Environmental Scanning Electron Microscope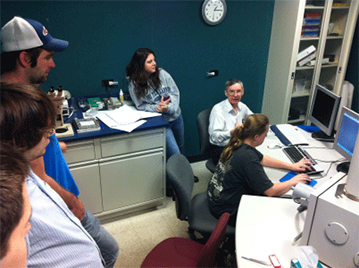 Scanning Electron Microscopy is an integral part of many aspects of research in geology, biology, chemistry, engineering, physics and polymer sciences. Our facility supports:
FEI Quanta 200 Environmental Scanning Electron Microscope and EDS attachment.

image coated or uncoated specimens in their natural state
allow the sample to be exposed to a range of pressures and temperatures
obtain high quality images of uncoated, hydrated samples in a low-vacuum environment
This facility serves the entire UA community and surrounding northeastern Ohio. Questions about our ESEM and whether it will fulfill your imaging and analytical needs? Contact Us
This lab was created with the support of NSF EAR Grant 0320898.
Rates
Internal user rate without technician-$35/hr
Internal user rate with technician-$50/hr
External user rate with technician- $150/hr
Field Equipment
Two passenger vans
A four wheel drive truck
Portable rock corer that collects rock samples up to 18 inches long and 1 inch in diameter.
Giddings soil probe that takes core samples of glacial deposits up to 40 feet long.
Flow meter that measures stream velocity
Dissolved oxygen, pH, conductivity, ORP meters.
Geochemistry Equipment
Atomic absorption spectrometer (AA) that determines the concentration of metals in natural waters
Ion chromatograph that determines the concentration of anions in natural waters
Teledyne Leeman Labs Hydra-IIc mercury analyzer
Freeze-drier, various drying ovens
Geophysics Equipment
Gravimeter
Multichannel Resistivity meter
Portable 12-channel seismograph
Magnetometers
Ground Penetrating Radar
All are used for measuring the geophysical properties of surficial deposits and shallow features such as buried valleys.
Petrographic Equipment
Automated X-ray diffraction system that determines mineral phases in powdered samples
Image analyzer
Zeiss AxioScope A1 petrographic microscope with Axiocam digital imaging system
Rock saws and automated thin section equipment for the preparation and observation of rock, mineral and fossil specimens
Rock Mechanics Equipment
Griggs-type piston cylinder rock deformation apparatus capable of pressures up to 2000 MPa and temperatures up to 1400oC.
Forney FX-300 concrete strength tester with Hoek-type pressure vessel capable of pressure up to 70 MPa and room temperature. Strain can be measured via strain gauges or displacement gauges.
Milling machine, core saw, lathe, Buehler Isomet Low Speed and Isomet 1000 saws for coring and sample preparation.
Small hydraulic presses and other tools for assembly preparation.
Environmental Magnetics Equipment
Princeton Measurement Corporation Alternating Gradient Magnetometer, Model 2900 for the measurement of the full hysteresis loop and FORCs.
Magnetic Measurements Ltd., 2.5 m3 very low-field cage (0.2 uT).
Molspin spinner magnetometers.
D-Tech D-2000 AF demagnetizer.
ASC Impluse magnetizer Model IM-10-30.
Bartington MS2 susceptibility meter with dual-frequency single-sample sensor, whole-core loop sensors and high-resolution split-core sensor
Walk-in cold room for core storage.
---