2013 Distinguished Alumni Award
Mr. Suresh Swaminathan, M.S. 1988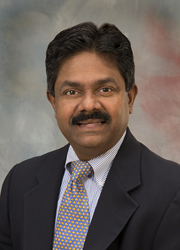 Mr. Suresh Swaminathan is currently Vice President and Business Unit Manager of Thermoplastic Elastomers (TPE), which is one of the eight businesses of Teknor Apex Company – a Rhode Island based global manufacturer of plastic materials.
Since joining Teknor in the fall of 1987, Swaminathan has worked in various roles and capacities within Teknor spanning technology, operations and sales/marketing. From process development engineer to technical manager; plant manager to market development specialist; and business manager to vice president – in every step along the way, Swaminathan's career moves provided him with significant opportunities and responsibilities to impact the business and the company. In 2005, he accepted a multi-year international assignment and relocated with his family to the United Kingdom to establish a business structure and strategy for Teknor's presence in Europe.
Today, Swaminathan leads the global business efforts for the Thermoplastic Elastomer division of Teknor Apex and was recently appointed to the Senior Management Team of the company. With this appointment, he will be playing a key role in helping to shape the strategic direction for the entire corporation on a global basis.
Swaminathan is an active member of his local Indian community and serves as a board member for the India Association of Rhode Island which is actively involved in promoting local community impact projects and initiatives.
In addition to his M.S. in Polymer Engineering from The University of Akron (1988), Swaminathan also holds a Bachelor of Technology in Chemical Engineering from the University of Madras, India (1984), and has completed a Certificate of Advanced Graduate Studies (CAGS) in Marketing from Bryant University (2003).
Swaminathan lives with his wife of 26 years, Chitra, and their two sons, Aathman and Anuj, in Cumberland, Rhode Island.