2006 Distinguished Alumni Award
Murthy Simhambhatla, Ph.D. 1994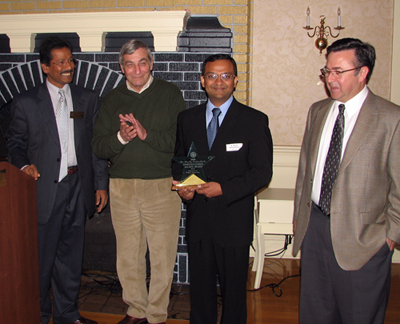 Dr. Murthy Simhambhatla is Vice President and General Manager for Drug Eluting Stents at Abbott Laboratories in Santa Clara, California, responsible for directing the development of drug eluting stents for the treatment of coronary artery disease. Abbott's lead drug eluting stent, Xience™ V, will be launched outside the U.S. in October 2006.
Prior to this, Simhambhatla has had a wide range of technical and leadership responsibilities in controlled release drug formulations, pharmaceutical process development, medical device development and new therapies research with the Vascular Intervention group of Guidant Corporation, recently acquired by Abbott Laboratories. Before joining Guidant, he worked on a variety of material science product development initiatives in the electronics and opto-electronics fields at the Raychem Corporation in Menlo Park, California.
Simhambhatla is an inventor on 17 U.S. patents in the fields of opto-electronics, medical devices, drug delivery and novel biological therapies for treating heart disease and has served as faculty at international conferences and courses in the medical device and interventional cardiology fields. He holds M.S. and Ph.D. degrees in Polymer Engineering from The University of Akron, with concentration in polymer characterization and constitutive models of polymer flow.