2012 Distinguished Alumni Award
James Scobbo, Ph.D. 1989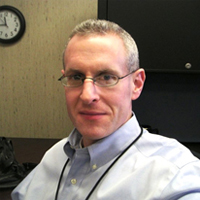 Dr. James "Jim" Scobbo is currently the Global Analytical Technology Leader for SABIC's Innovative Plastics businessin Mount Vernon, Indiana. In this capacity, he leads a team of over 200 technologists in the Americas, Europe, and Pacific regions who are responsible for solving business and technical problems by leveraging chemical and physical characterization technologies. He also leads the Analytical Community of Excellence across all of SABIC, which brings together characterization experts across every SABIC strategic business unit.
Over his 23 year career with the company, Scobbo has held roles with increasing responsibility across a breadth of functional areas and product lines. He has numerous publications and patents, has taught short courses around the world, and has authored/coauthored two book chapters.
Scobbo received a B.S. in chemical engineering (1984), M.S. and Ph.D. degrees in polymer engineering (1986 and 1989 under Dr. Nobuyuki Nakajima), as well as an M.S. in physics (1989), all from The University of Akron. In 1992 he also completed an M.B.A.from Union College.