2005 Distinguished Alumni Award
Dr. Sharell L. Mikesell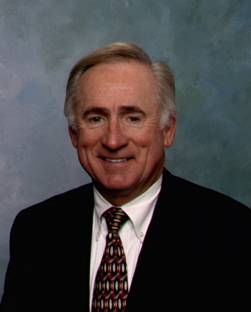 Sharell L. Mikesell, Ph.D. was named the first Executive Director of the newly formed Ohio Polymer Strategy Council in March 2001. Prior to this appointment he has been a successful senior executive with 30 years corporate leadership experience in global research & development and business operations. His background includes a breadth of polymer and material technologies in diverse positions with major companies, GE and Owens-Corning and with a high growth product and applications innovator, Advanced Elastomer Systems, L.P. (AES), an Exxon-Mobil subsidiary. He retired from AES at the end of 2000 having served 5 years as Vice President of Technology. His responsibilities included the global technical leadership for product, process, and applications development as well as applied research and technical support to manufacturing and customer's worldwide. Starting in July 2005, Dr. Mikesell is also serving as the Co-Director of the Center for Multifunctional Polymer Nanomaterials & Devices (CMPND), Ohio's first state funded multi-university center in nanotechnology.
Dr. Mikesell has served on several boards and advisory committees. He was a corporate representative to the Industrial Research Institute (IRI) for 10 years and he continues as a member of the Emeriti Committee. He serves on the Advancement Council for the College of Polymer Science and Engineering at the University of Akron, the Board of Trustees for the polymer advanced material industry association, PolymerOhio, Inc., the Research Advisory Council of NorTech, the Advisory Board of the Ohio Business Development Coalition and the Scientific Advisory Board of UTEK Corporation. During his career he has also served on the Board of Asahi Fiberglass in Japan, as an advisor to the Center of Photochemistry at Bowling Green State University, the Chemical Engineering Department at the University of West Virginia, the Board of Trustees for the Ohio Polymer Enterprise Development, Inc., the Board of Trustees of the Edison Polymer Innovation Corporation, and the Olivet Nazarene University Foundation. In 1992, he was recognized as the Alumni of the Year and received the distinguished "O" Award from Olivet Nazarene University.
Dr. Mikesell, a native of Ohio received a Bachelor of Arts degree in Chemistry from Olivet Nazarene University, Kankakee, Illinois, in 1965, and a Master of Science from the Ohio State University, Columbus, in 1968. Dr. Mikesell received a Ph.D. Degree in Polymer Science from the University of Akron, Ohio in 1971.