2011 Distinguished Alumni Award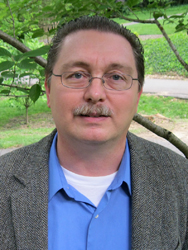 Dr. Jimmy Mays, Ph.D. 1984
We are proud of the accomplishments of our faculty, alumni, and current students, many of whom have become leaders in polymer research and development in industry and academe. Each year a Department of Polymer Science alumnus is chosen to be recognized and receive the Outstanding Alumni Award and is honored at a symposium during the fall semester featuring a lecture presentation by the awardee along with other alumni.
Professor Jimmy Mays received the B.S. degree in Polymer Science from the University of Southern Mississippi in 1979 and a Ph.D. in Polymer Science from the University of Akron in 1984 under the direction of Professor Lewis Fetters. After graduation he worked for several years at Hercules Research Center, prior to joining the faculty at the University of Alabama at Birmingham. In 2002 he moved to his current position as UT/ORNL Distinguished Scientist at the University of Tennessee, Knoxville, and Oak Ridge National Laboratory.
Professor Mays' research is centered on polymer synthesis, especially synthesis of polymers having controlled architectures. He has published over 300 peer reviewed papers describing this research and presented over 450 lectures on polymers worldwide. Among various honors and awards, Professor Mays is a recipient of the Arthur K. Doolittle Award of the ACS Polymeric Materials Science and Engineering Division, the ACS Southern Chemist Award, the Distinguished Service Award of the ACS Polymer Chemistry Division, and the ACS Senior Mark Scholar Award. He is a Founding Fellow of the ACS Polymer Chemistry Division.
Professor Mays and his wife, Patricia, enjoy travelling and playing with their three dogs, Taz, Precious, and Bits.