2002 Distinguished Alumni Award
Dr. Russell Livigni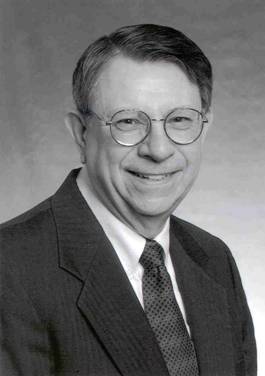 Dr. Russell A. Livigni, an Akron native, earned a BSc in Chemistry and a PhD in Polymer Chemistry from The University of Akron in 1956 and 1960, respectively. While studying for his PhD degree, he received a Firestone Tire & Rubber Company Fellowship and a National Science Foundation Fellowship.
After graduating in 1960, Dr. Livigni spent one year as a Research Scientist at the Ford Motor Company's Scientific Laboratory, then returned to Akron as a Senior Research Chemist for the General Tire & Rubber Company, which later became GenCorp. He retired from GenCorp as Vice President of Corporate Technology after 35 years of service.
Dr. Livigni received 38 US Patents during his career, and authored many technical papers and several chapters in rubber technology and polymer textbooks. He participated in the development of telechelic polybutadienes ("Telagens") and he was a member of the team that developed high molecular weight polyoxypropylene polyols having excellent functionality and now being used commercially. Dr. Livigni also pioneered the use of organoalkaline earth compounds as polymerization initiators, and he was the principal investigator and project team leader in the synthesis of crystallizing High Trans SBR's, prepared using barium based initiators.
In 1997, Dr. Livigni was internationally recognized by the Rubber Division of the American Chemical Society, receiving the Melvin Mooney Distinguished echnology Award for "exhibiting exceptional technical competence by making significant and repeated contributions to rubber technology".
Dr. Livigni is a member of the Advisory Council of the Akron Council of Engineering and Scientific Societies (ACESS) and in 1991 he received its Distinguished Award of Council. He has served on the board of directors and executive board of the Edison Polymer Innovation Corporation, the Executive Advisory Board of the Tire Town Chapter of the International Association of Administrative Professionals, and on the Advancement Council of The University of Akron's College of Polymer Science & Polymer Engineering. Dr. Livigni is a past Chairman of the Elastomers Gordon Conference. He is also sponsor of the Dr. Russell A. Livigni Graduate Fellowship in The University of Akron's Department of Chemistry, and serves on the Board and Stewardship Committee of The University of Akron Foundation.
Dr. Livigni received the 2002 Alumni Honor Award from The University of Akron Alumni Association. Dr. Livigni is a member of the American Chemical Society and its Polymer and Rubber Divisions, the American Association for the Advancement of Science, and the Industrial Research Institute.