2010 Distinguished Alumni Award
Myung Hwan Kim, Ph.D. 1990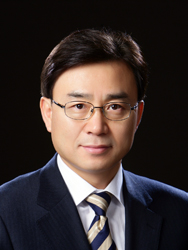 Dr. Myung Hwan Kim is the Senior Vice President at LG Chem, Ltd. in South Korea.
Dr. Kim graduated with a B.S. in Chemical Technology in 1980 from Seoul National University during which time he also played on its varsity soccer team. He earned a M.S. in Chemical Engineering at KAIST, also in Seoul, before he came to The University of Akron to pursue a Ph.D. in Polymer Engineering.
Dr. Kim was one of many graduate students who worked for the late Professor James L. White. He obtained a Ph.D. in 1990 working on the mixing of two incompatible polymers, LDPE and polycarbonate, in a twin screw extruder. His dissertation topic was: "Theoretical and Experimental Studies of Flow Behavior in Modular Non-Intermeshing Counter-Rotating Twin Screw Extruders." From this work, he had three publications with Dr. White. He has used that knowledge to become a technology leader of today in the field of rechargeable lithium-ion battery development at LG Chem.
Along the way, Dr. Kim worked on thermoplastic elastomers, toner, and epoxide molding compound development. In 1996, he started working on lithium battery development and quickly rose to group leader in 1998. He continued working on lithium batteries as a division manager in 2004. Since 2005, Dr. Kim has been in his present position as Senior Vice-President of Battery Research and Development at LG Chem. He oversees new materials in the development of higher power/energy density lithium batteries.
Dr. Kim has many major accomplishments, including: leading development and production of the first lithium ion battery in South Korea (1998), and development of lithium ion batteries for automotive usage, such as for the GM Volt. He has contributed to 15 patents and was given the prestigious IR52 Chang Young Sil award in 2000, presented to him by the President of Korea.
He credits his success to his training and experience in the Department of Polymer Engineering. It is clear that Dr. Kim has used this training to become a leader in battery technology. He still plays soccer and now plays golf as well. Dr. Kim is married and has two sons, the oldest of whom is close to home and attends college in South Korea, while the younger attends the University of Wisconsin in Madison.