2005 Distinguished Alumni Award
Bimal Kalvani, M.S. 1991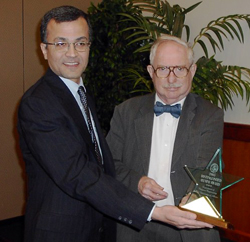 Recipient of the first Polymer Engineering Distinguished Alumni Award, Mr. Bimal Kalvani is President of Alcoa Flexible Packaging in Richmond, Virginia. Alcoa Flexible Packaging is an industry leader in the production and conversion of flexible packaging and thermoformed packaging used in various markets, including pharmaceutical, tobacco, food and beverage, retail, medical and industrial.
Kalvani possesses extensive packaging management experience with over 20 years working in the consumer and industrial packaging industry. Before joining Alcoa, he honed his skills in several executive leadership positions with major packaging organizations involving manufacturing and acquisitions strategy, and planning and analysis. Most recently, Kalvani served as vice president, Mergers & Acquisitions and Operations Strategy for Berry Plastics, Inc. of Alsip, Illinois, a leading manufacturer and marketer of injection-molded and thermoformed plastic packaging. Prior to Berry Plastics buying Landis Plastics in 2003, he served in several senior executive management positions with Landis. Kalvani also held vice president leadership roles in manufacturing, planning and analysis with Packaging Resources, Inc., a food packaging business located in Lake Forest, Illinois, and a directorship while with Tetra Pak, Flexible Packaging Systems, Lincolnshire, Illinois. Earlier in his career, he held research and process engineering assignments with Pactiv and Avery Dennison Corporation.
Kalvani has a chemical engineering degree from the University of Baroda in India and received his M.S. in Polymer Engineering from The University of Akron in 1991. He went on to obtain an M.B.A. degree from the University of Chicago in 1995.