2012 Distinguished Alumni Award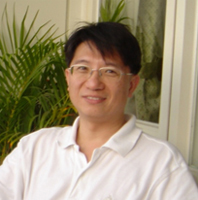 Dr. Rong-Ming Ho, Ph.D. 1995
We are proud of the accomplishments of our faculty, alumni, and current students, many of whom have become leaders in polymer research and development in industry and academe. Each year a Department of Polymer Science alumnus is chosen to be recognized and receive the Outstanding Alumni Award and is honored at a symposium during the fall semester featuring a lecture presentation by the awardee along with other alumni.
Dr. Rong-Ming Ho received his Ph.D. in 1995 under the supervision of Dr. Stephen Z. D. Cheng. Afterward he moved to Minneapolis and worked as a post-doctoral fellow in the Dept. of Chemical Engineering and Materials Science, University of Minnesota, with Drs. Christopher W. Macosko and Frank S. Bates.
In 1997, Ho returned to Taiwan to assume an assistant professorship in the Dept. of Chemical Engineering, National Chung Hsing University. In 2002, he transferred to the Dept. of Chemical Engineering, National Tsing Hua University as an associate professor. In 2006, he became a full professor and, in 2009, he was recommended as a distinguished professor.
Ho's current research focuses on nano-materials from self-assembly of block copolymers and supramolecules, nano-patterning technologies via integration of top-down and bottom-up methods, and nanohybridization from templating of self-assembled block copolymers.
Among various honors and awards, Ho was a recipient of the Ta-You Wu Memorial Award (Young Investigator Award of Taiwan) in 2003 and Outstanding Research Award of Taiwan (35 award receptors from Taiwan Academic Society) in 2006. He is currently the Secretary General for the Pacific Polymer Federation.