2010 Distinguished Alumni Award
Maria D. Ellul, Ph.D. 1984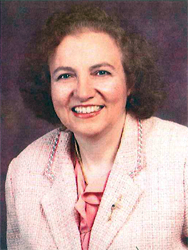 Dr. Maria D. Ellul is the recipient of The University of Akron, Department of Polymer Science, 2010 Outstanding Alumni Award. Dr. Ellul was born and educated in Malta. She earned her B.Sc. Degree in Chemistry from The Royal University of Malta in 1977, her M.Sc. Degree in Polymer Science from The North London Polytechnic in 1979 and her Ph.D. degree in Polymer Science from The University of Akron in 1984.
Maria has 29 years experience in various R & D positions in industry; Dowty Seals Ltd., 1977-1981; GenCorp/General Tire - Continental A.G., 1984-1991. Since 1991 she has been at Advanced Elastomer Systems, L.P., now ExxonMobil Chemical Co., where she is presently Principal Scientist. During her tenure at ExxonMobil she has made numerous seminal contributions to both fundamental and applied research in elastic materials based on polyolefins. Ellul's research focuses on kinetics and thermodynamics of mixing polymer blends, including the use of block / graft copolymers and dynamic vulcanization to enhance blend compatibility, control morphology and rheology. Dr. Ellul's product research and leadership in collaboration with coworkers has resulted in significant advances in various specialty polymers including Santoprene™, Vistamaxx™ and EPDM. Her discoveries led to over 30 US patents. She was the recipient of the "Sparks Thomas Award" (1997) - American Chemical Society, (ACS); "The Woman of the Year Award" (1998) - Ohio Women's History Project; "The Polymers Technology Award" (1998) - Exxon Chemical Co.; the "Chemistry of Thermoplastic Elastomers Award" (2005) - ACS Rubber Division, and the "Global Technology Team Award" (2005) - ExxonMobil Chemical. She is the author/co-author of over 40 publications and serves as Associate Editor for Rubber Chemistry & Technology. She has also served in the role of science ambassador and as a speaker in national and international conferences.
Maria is married to Jeffrey L. Sain. They have 2 daughters; Victoria & Elizabeth. Her hobbies are cooking, reading, traveling and photography.