Academic leadership
Dr. John Wiencek
Executive Vice President and Provost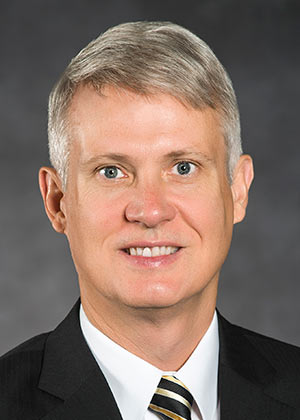 John Wiencek, Ph.D., an accomplished chemical and biochemical engineer, experienced academic administrator, and Northeast Ohio native, is UA's executive vice president and provost.
As provost, Wiencek (pronounced WIN-sek) will redefine and implement the priorities for the Office of Academic Affairs and bolster UA's research prominence and productivity. He is responsible for:
sharpening the University's enrollment strategy and practices, including exploring new markets and expanding delivery models;
assessing and optimizing the academic affairs structure and processes;
recruiting and developing an exceptional academic leadership team; and
contributing to UA's commitment to diversity and inclusion.
As executive vice president, he is the most senior administrator reporting to the president.
Wiencek grew up near the Portage Lakes and graduated from Walsh Jesuit High School. He spent summers employed at the famed Waterloo Restaurant "flipping eggs and burgers."
"The University of Akron is a strong public urban research university that has a deep history and an extremely bright future," said Wiencek. "I grew up in Akron and have an affinity for the community and a profound respect for the students and employees who have chosen it as their home."
An experienced academic leader, Wiencek most recently served as provost and executive vice president at the University of Idaho. There, he developed and implemented a strategic plan and executed new improvements in communication to build trust between the faculty and administration for a stronger campus community.
He previously served as interim provost and vice president of academic affairs at Virginia Commonwealth University. There he was the driving force behind many significant accomplishments, including resolving initiatives such as enrollment planning and fundraising; completing several searches for key roles; and establishing a Strategic Enrollment Council.
Prior to that, Wiencek served as dean of the College of Engineering at the University of South Florida. He also served in a variety of positions at The University of Iowa including department chair, graduate director, graduate admissions chair, and professor of chemical and biomedical engineering. He began his career as an associate professor in the Department of Chemical and Biomedical Engineering at Rutgers University.
Wiencek earned a Bachelor of Science in Chemical Engineering from the University of Cincinnati and a Master of Science and Doctor of Philosophy, both in Chemical Engineering, from Case Western Reserve University. As a researcher, he has focused on protein biophysics with applications to drug formulations.
More:
---
Dr. Cher Hendricks
Senior Vice Provost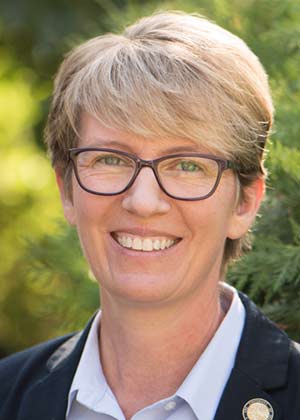 Dr. Cher Hendricks is UA's senior vice provost in the Office of Academic Affairs. She joined the University in 2020 as interim chief of staff in OAA.
Hendricks began her higher education career as a faculty member at the University of West Georgia, where she also served as assessment and accreditation coordinator for the College of Education, founding director of the Center for Teaching and Learning, and associate vice provost for academic affairs.
For three years, Hendricks was a research scientist at Georgia Tech where she worked on NSF-funded projects related to K-12 STEM education programs.
Then she served as Vice Provost for Academic Initiatives at the University of Idaho where she was responsible for expanding and improving curricula and programs, supporting student success initiatives, and overseeing faculty development to enhance teaching and learning.
Hendricks has a keen interest in broadening faculty participation in campus change initiatives and providing avenues for collaboration.
With a team of colleagues from colleges and universities in Georgia and Colorado, she leads workshops for campus leaders who are searching for ways to invite faculty to lead during times of change. Hendricks is author of Improving Schools through Action Research: A Reflective Practice Approach, now in its fourth edition, and contributor to The Wiley Handbook of Action Research in Education (2019).
She earned her undergraduate degree from Baylor University, her master's at the University of Houston, and a Ph.D. in educational research and measurement from the University of South Carolina.
---
Dr. Joe Urgo
Interim dean of the Williams Honors College and vice provost of student pathways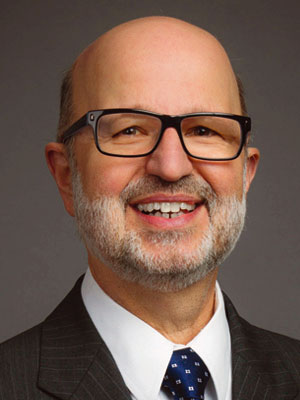 Dr. Joe Urgo is interim dean of the Williams Honors College and vice provost of student pathways in the Office of Academic Affairs. Urgo will lead efforts to attract and retain students who enter The University of Akron. Students come to UA via different pathways and with varied levels of preparation. Students can be young high schoolers or older adults, require augmentation of basic math or English skills, or ready to launch into an Honors thesis project. He is responsible for understanding and supporting each of these student groups so that they progress and graduate in a timely way. A national search for a permanent person to serve in this role will commence in fall 2021.
Urgo has had extensive experience creating programs, attracting financial support from foundations and individuals, and reallocating internal budget priorities to better align with institutional goals and ambitions. At two institutions he created systems of faculty allocation to implement thoughtful re-deployment of academic resources to meet institutional needs. Urgo has also led mediation exercises among administrators and faculty members where relations had been strained by prolonged professional misalignment and an absence of empathetic insight.
Having earned leadership positions at a private regional university, a public R-1 flagship institution, as well as private and public liberal arts colleges, Urgo is able to introduce multiple models of successful intervention to challenges that inevitably occur on campuses.
Urgo earned a B.A. in political science from Haverford College, an M.A. in liberal studies from Wesleyan University (CT), and an M.A. and Ph.D. in American civilization from Brown University. A literary scholar, he has written five books, edited nine, and published dozens of essays on topics in American literature, culture, and higher education.
More:
Directory
---
Inside UA
CONTACT THE OFFICE OF ACADEMIC AFFAIRS
Location:
Buchtel Hall (map)
302 Buchtel Common
Akron, OH 44325-4703