James Slowiak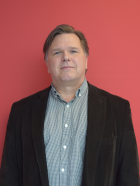 Title: Professor Emeritus of Theatre
Dept/Program: School of Dance, Theatre, and Arts Administration
Office: 398D Guzzetta Hall
Phone: 330-972-5909
Fax: 330-972-7892
Email: slowiak@uakron.edu
Website: https://nwplab.com/

---
Biography
James Slowiak served as Professor of Theatre at The University of Akron (OH), Coordinator of the Theatre Program, and Interim Coordinator of the Arts Administration Program. He founded and is Co-Artistic Director of the internationally acclaimed New World Performance Laboratory (NWPL), active in Northeast Ohio since 1992. From 1983 to 1989, Mr. Slowiak served as Assistant to the Polish theatre director and researcher, Jerzy Grotowski, in all facets of the Focused Research Program in Objective Drama at the University of California-Irvine, and at the Workcenter of Jerzy Grotowski in Pontedera, Italy. Mr. Slowiak's work in collaboration with Grotowski is the subject of an article in the spring 1991 issue of The Drama Review and is discussed in the book At Work with Grotowski on Physical Actions by Thomas Richards (Routledge, 1995). Mr. Slowiak received his MFA in Directing from the University of California-Irvine and a BA in Anthropology, French, and Dramatic Arts from Macalester College. He co-founded and was Artistic Director of At Random Theatre Ensemble in St. Paul, Minnesota (1978-1982). He has directed more than 100 theatre events, including his own adaptations of Moliere's El Misantropo and Cervantes' Entremeses in Bogota, Colombia, and he has conducted numerous workshops in actor training and Performance Ecology in Europe, Asia, and the Americas. Several NWPL productions directed by Mr. Slowiak have appeared on stages abroad and in notable international theatre festivals. For NWPL, Mr. Slowiak has directed The Ancients; Mother's Work; Epiphany; Veredas; The Book of Saints and Martyrs; Essential Demonstrations; Woyzeck (Fragments of a Morality Play as Performed by the Prodigies of Dr. Somnus' Freak Show); HamletMachine; Electra; Love in the Time of Lunatics; Winesburg, Ohio; Deathwatch, Frankenstein, Virginia Woolf's Orlando, and The Devil's Milk Trilogy, among others. He is co-author (with Jairo Cuesta) of Jerzy Grotowski (Routledge, 2007, 2018) and The Akron Story Circle Project: Rethinking Race in the Classroom and Beyond (UA Press, 2017). Mr. Slowiak was awarded Outstanding Teacher Award from UA in 2006 and the Akron Area Arts Alliance Outstanding Theatre Artist Award in 2011. His work with New World Performance Lab has twice won the Knight Foundation's Akron Arts Challenge and received funding from the Ohio Arts Council, Char and Chuck Fowler Family Foundation, Akron Community Foundation, and GAR Foundation, among others.
---
Research
Co-Artistic Director, New World Performance Laboratory since 1992;
Co-Author (with Jairo Cuesta), Jerzy Grotowski, Routledge 2007, 2018;
Co-Author, The Akron Story Circle Project: Rethinking Race in the Classroom and Beyond, UA Press, 2017.
Publications
https://www.routledge.com/Jerzy-Grotowski/Slowiak-Cuesta/p/book/9780815386797
---
Education
B.A. in Dramatic Arts, Anthropology, and French; Macalester College (1977)
M.F.A. in Directing; University of California-Irvine (1985)
---
Courses
Directing
Ensemble Theatre
Voice, Movement
Acting, ContemporaryTheatre
Creating Performance
Theatre Anthropology
---