Deborah Pinter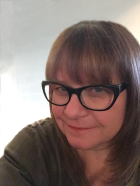 ---
Biography
Deborah Pinter began her education career when she worked as a studio artist and educator for the Education Department at the Cleveland Museum of Art before becoming an Associate Educator at the Akron Art Museum in 1999. In 2005 Deborah became the Executive Director of the Orange Art Center and after eleven years, in 2016, left to dedicate the majority of her time to her art. She has also taught photo history at Hiram College, Hiram, OH and Photography to Freshman and Sophomore Photography majors at the Cleveland Institute of Art. Her photographs and monotype prints are included in numerous private and public collections including the Cleveland Museum of Art, Zygote Press Archives, Progressive Art Collection, The Cleveland State University Art Collection, Laura Ruth and Fred Bidwell Collection and the Grafikwerkstatt Collection, Dresden, Germany. Exhibition venues include solo exhibitions in 2018 at BAYarts, 2017 at Heights Arts and The Maria Neil Art Project and in 2012 The Cleveland Botanical Gardens. Group shows include Alte Feuerwache Loschwitz, Dresden, Germany, The Art Gallery at Cleveland State University, the University of Akron Emily Davis Gallery and The Colburn Gallery, Ashland University. She also self-published a book in 2012, Luminous Florals, that was included in the DIY: Photographers and Books Exhibition, curated by Barbara Tannenbaum at the Cleveland Museum of Art. Pinter has also served as a trustee on a number of nonprofit art institution committees and boards, including SPACES Gallery, Cleveland, OH and the Cleveland Museum of Art's Friends of Photography board where she served as Vice President for three years.
---
Research
"The Year That Was and the Year That Will Be in Cleveland Visual Art", by Dott von Schneider, Scene Magazine, December 27, 2017
"In-Depth with Deborah Pinter's Natural Order and Chaos", by Jessica Stockdale, CAN Journal, Fall 2017
"Ornamental Containment ", by Mary Ryan, CAN Journal, Summer 2017
"The Evolution of Deborah Pinter, Natural Selections", by Dott von Schneider, Scene Magazine, May 10-16, 2017
"Maria Neil Presents a Curated Selection of Natural Elements from Here and Abroad", by Adam Tully, CAN Journal, Spring 2017
"Ausstellung "Dresden Residents 2016, Dresden International, Newsletter, September 2016 Luminous Florals, self-published by Deborah Pinter, Foreword by Kathryn A. Wat, Washington, D.C. 2012
diy: Photographers & Books, exhibition catalog by Barbara Tannenbaum, Cleveland, Ohio. 2012 2307 Chester Ave.
-The Last Exhibition, exhibition catalog by Robert Thurmer and Tim Knapp, Cleveland, Ohio. 2011
ArtWorks: The Progressive Collection history and catalog of a collection by Dan Cameron, Peter B. Lewis, Toby Devan Lewis, Mark Schwartz Forward by Toni Morrison, Cleveland, Ohio. 2007
"Ephemeral Flowers and Feminine Forms", by Kim Carpenter, Akron Life and Leisure, the Magazine of Greater Akron, July 2004
Year of the Artist July 2001 - July 2002, published by The Ohio Arts Council's Riffe Gallery, Columbus, Ohio In Good Company:
A Woman's Journal for Spiritual Reflection, published by The Pilgrim Press, Cleveland, Ohio. 2001
In Good Company: A Woman's Journal for Spiritual Reflection, published by The Pilgrim Press, Cleveland, Ohio. 2000
Loving Changes: A Journal for Mothers in Times of Transition, published by The Pilgrim Press, Cleveland, Ohio. 1999
Howling at the Edge of a Renaissance by William Busta, exhibition catalog, SPACES Gallery, Cleveland, Ohio. 1998
Education
M.F.A. in Photography, New York University/International Center of Photography joint graduate program (1991)
B.F.A. in Photography from the Cleveland Institute of Art (1988)
INTERNSHIPS and RESIDENCIES:
Dresden Residency Exchange through the Ohio Arts Council and the. the City of Dresden
Zygote Press-Monothon Program Polaroid 20x24 Studio through the Alliance of Independent Colleges of Art-New York Studio Program
---
Courses
Graduate: Arts Administration Practices & Policies, Audience Development
---