Anna-Jeannine Kemper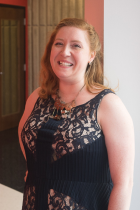 Title: Theatre Coordinator, Graphic Design, Media Relations
Dept/Program: School of Dance, Theatre, and Arts Administration

---
Biography
Anna-Jeannine is a first-year graduate assistant. Born and raised in Knoxville, TN, Anna-Jeannine is the product of a family of artists, musicians, engineers, military servicemen, and teachers. She was privileged to grow up surrounded by a talented family who encouraged her to explore as an artist, a musician, a performer, and as an intellectual.
After undergraduate studies in Theatre (Literature, Performance, Design, and Technology) and Communications at Berea College in Berea, KY, Anna-Jeannine gained experience and perspective through internships and graduate work in theatrical costume design, as well as professional experience in marketing, and entrepreneurship in special event entertainment planning and coordination. Over the course of her work and study, she has taught at several levels in both formal and informal settings, and she considers herself a life-long learner and mentor.
Through the knowledge gained in this program, Anna-Jeannine hopes to continue her work in arts leadership and to distill her skills. She is passionate about the arts as a catalyst for healing and she hopes to be a force for change in the greater Akron community and beyond as an arts advocate, educator, organizer, and practitioner. She hopes to be useful, helpful, inspired, and inspiring. She currently resides in Copley, OH with her fiancé and son.
---
Education
B.A. English, Theatre and Communications, Berea College
---