Hui-Chu Ying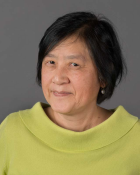 Title: Professor, Printmaking Coordinator
Dept/Program: Printmaking
Office: Folk Hall 121
Phone: 330–972–5971
Email: ying@uakron.edu

---
Biography
The best part of being an artist is that it allows one to discover, to examine, and to respond to life experiences. We enjoy our routine lives and take them for granted until the day arrives when they are interrupted by illness, death, war, or a sudden natural disaster. It is such an amazing thing that each one of us has the inner compassion to give and share of ourselves and our material goods. We learn to nurture and to embrace one another, to cope with the loss of loved ones, and to endure obstacles. The best medicine for healing the wounds that life throws at us is the offer of hope and courage. Helping one other to develop empathy, tolerance, patience and humility is one of life's greatest gifts.
"No one is an isolated island; we are all links in the great chain of life. Just as the right hand reaches out to aid the left hand when it is injured, the ability to feel the sufferings of all beings as our own, and an intense yearning to comfort them, should awaken within us." Om Lokah Samastah sukinoBhavanthu, Om Shantih Shantih Shantih" by Amma
Hui-Chu Ying's work is a reflection of her concern with humanity's suffering resulting from wars, disasters, disease and loss. She exploits all the possibilities of various media by combining painting, drawing, etching, screen-printing and collage, as well as others, in her work. She creates large-scale installations using drawings and prints on paper producing a space for meditation or communication.
One of the wall installations included many pieces of metallic leaf pasted on paper and silkscreen printing with text selected from several religious books including Arabic text from the Koran, Hebrew from the Torah, Chinese from Buddhist sutras, and Spanish from the Christian Bible. The prayer texts reside under a drawing of a Zen rock garden, a visual space for meditation. Another installation was comprised of a group of boat-shaped, woodcut relief prints. Images of hand gestures symbolized the Buddha's mudras of giving, sharing and blessing. The boats represent prayers of hope which rescue the ill, those who experience loneliness or grief or loss.
---
Education
MFA. West Texas A & M State University, MA. West Texas A & M State University, BA. San Jose State University, BS. Shih Chien College; Taipei, Taiwan
---