Christopher Hoot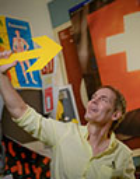 Title: Professor
Dept/Program: Graphic Design
Office: Folk Hall 141
Phone: 330–972–6030
Email: choot@uakron.edu

---
Biography
In addition to restructuring and teaching courses in graphic design and 2-D Design Foundations, Christopher Hoot has worked as a designer with a variety of clients through his design business, HootDesign including: Akron Art Museum; Allen Memorial Art Museum at Oberlin College; City of Canal Fulton; West Point Market; Oberlin College Performing Arts; Akron Civic Theatre; Design Management Inc.; Midwest Art History Society; Applied Quality Methods; Glendale Cemetery; Visual Symphony; Children's Ballet Theatre; Recycling Coordinators; Auburn, Cord, Duesenberg Museum; Cleveland Center for Contemporary Art; Brouse McDowell; Savino Sorbet; Myers School of Art; The University of Akron Chapter of the AAUP; and Buckeye House Rabbit Society.
He has been involved in publication design designing books, catalogs, newsletters, and annual reports; environmental design designing exhibitions, signage and didactic systems and corporate identity designing visual identities and graphic systems.
In 1998 he designed the travelling exhibition, A Century of Innovative Book Design: Influences of Art, Design Theory and Technology on Book Design, (Emily Davis Gallery in 1998, AIGA/NYC in 1999, and VCU Anderson Gallery in 2000) and authored/designed the 240 page catalog. In 2004 he curated and designed the exhibition Type + Foto + Grafik = Swiss Posters, which included over 140 posters, representing the work of 50 designers and spanning 80 years. He designed the exhibition John Heartfield vs Nazi Germany, for the Akron Art Museum in 2008 and in 2010 designed the catalog and graphic system for their Pattern ID exhibition. His current research is in visual rhetoric, making connections between verbal and visual devices to enrich expression in graphic and visual communication design.
Master of Fine Arts, 1990
Yale University School of Art, Graphic Design Program
New Haven, Connecticut
Teaching Assistant, 1989
Yale College
Two-Dimensional Design for undergraduates
Bachelor of Arts, 1986
Indiana University School of Art
Bloomington, Indiana
Concentration in graphic design and printmaking
---
Education
M.F.A. Yale University, B.A. Indiana University
---