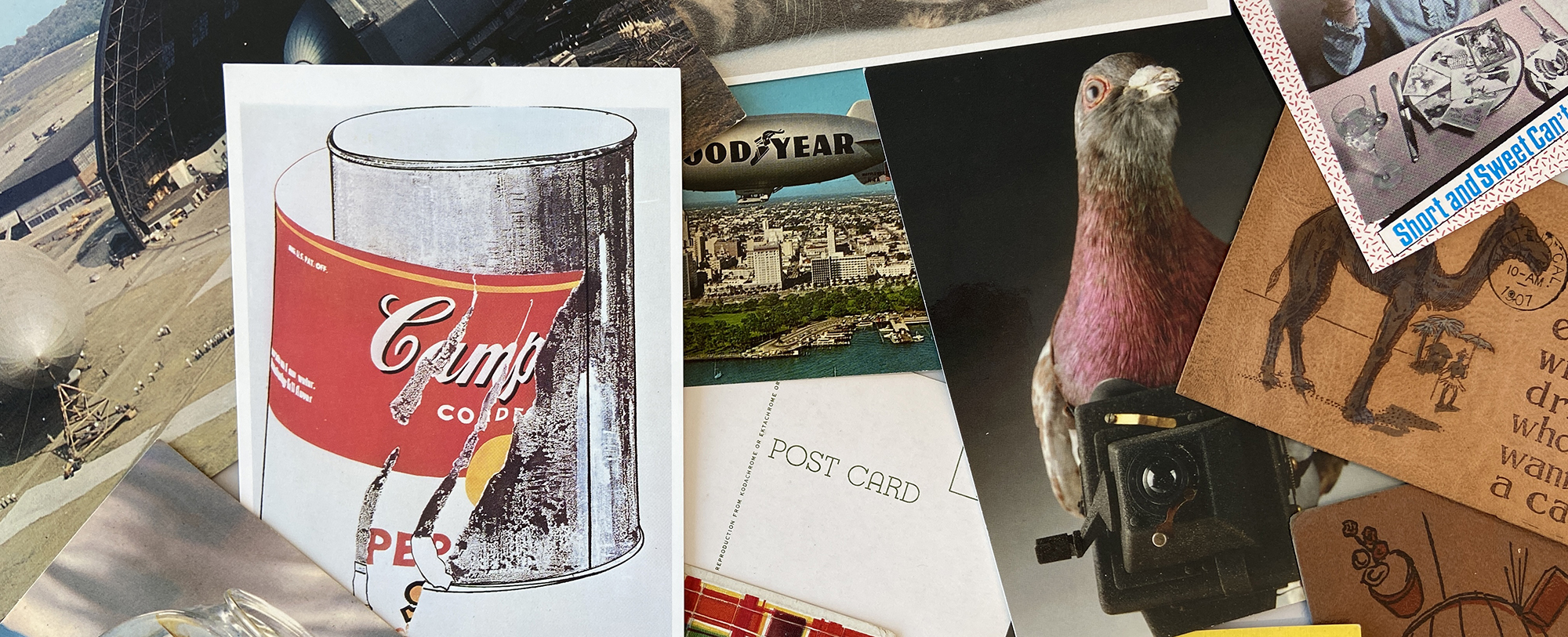 Akron Postcard Club
Enter the magical world of postcards. Whether you want to look at postcard images, read old messages, talk collections, or make your own postcards, the Akron Postcard Club is the place for you. We use the David P. Campbell Postcard Collection to explore the history of the postcard and to inspire our monthly meeting themes. We tend to alternate between collections exploration and postcard creation, check the theme descriptions for details.
Meetings are open to anyone curious about postcards – students and community members alike. We meet the last Wednesday* of every month from 6:00pm to 7:00pm ET in the Postcard Library at the Institute for Human Science and Culture at the Cummings Center (located on the 4th floor).
The club is free to attend, and new members receive an Akron Postcard Club membership card.
*due to the winter holidays, we do not meet at our regular time in November and December. Instead, we host a special Saturday afternoon meet-up during these months.
Next meeting:
Wednesday, September 27 from 6:00pm - 7:00pm ET

Theme: Illicit Mailing - All About the Risqué
Please RSVP online for the free event!
Join the Akron Postcard Club for a scandalous exploration of erotic postcards and the United States postal system. How—and why—were illicit postcards printed and mailed at the turn of the early 20th century? And how did these risqué mailings dodge U.S. obscenity laws? The event will begin with a guided tour of the Cummings Center's Sexology: Science & Sensationalism exhibit with guest speaker Tony Pankuch, exploring how one magazine cleverly skirted government censorship. Stick around after the tour for a discussion about obscenity laws, postcard manufacturers, and their surprising connection to the early women's rights movement!

Upcoming Meetings:
September 27, 6:00pm - 7:00pm
Illicit Mailing - All About the Risqué
with guest Tony Pankuch

October 25, 6:00pm - 7:00pm
A Halloween Double Feature
How We Collect/Postcard Spook & Swap

December 2, 12:00pm - 2:00pm
3rd Annual Postcard Write-A-Thon



Past Meeting Themes:
August 2023: Put Your "Stamp" on Akron - Everyday Akron Postcard Club Takeover
July 2023: Postcard Jeopardy
June 2023: Posting Postcards with the USPS!
May 2023: 2nd Annual Postcard Show & Tell
April 2023: 40th Annual National Postcard Week Preparation
March 2023: Olive Mudge, A Life in Postcards
February 2023: Roadtrip to the Cleveland History Center
January 2023: Embroidery Mini-Masterpieces
November 2022: Postcard Write-A-Thon and Printmaking Demo
October 2022: A Postcard House of Horrors
September 2022: The Hills Are Alive With The Sound of Postcards
August 2022: A Postcard Roadtrip Down Route 66
July 2022: Postcard BINGO
June 2022: The Magic of Photo-Multigraphs
May 2022: Postcard Show & Tell
April 2022: Prepping for National Postcard Week
March 2022: It's a Feminist Leap Year!
February 2022: Guided "Dig" into Postcard History
January 2022: Vinegar Valentine's
December 2021: Postcard Write-a-Thon Benefitting Local Seniors
October 2021: Halloween Postcards
September 2021: Exploring Akron through Postcards
August 2021: Rotating Wheel Postcards
July 2021: Fancy Writing