*** Akron Polymer Training Services now offers remote learning training courses featuring live instructors. In addition to our courses held at the Akron Polymer Technology Services training center, we now offer courses that can be taken online from your home or office.
We want you to have a great experience participating in our remote (online) courses, and for that, you'll need the right equipment and internet connection.
Minimum needs are:
A broadband internet connection that has at least a 2 Mbps upload and download speed.
A computer (PC or Mac) that can support the latest web browser versions.
At least 4 GB of RAM and adequate hard drive space.
A microphone and a speaker.
For more information, visit our Online Course Requirements webpage. ***
Automotive OEM Coatings Chemistry and Applications - 2 Day Course
Course Number: AP3509
Date: 10/14/2021 - 10/15/2021
Time: 8:00 AM - 4:00 PM
Location: Akron Polymer Training Center, Akron, OH 44325-5404, U.S.A.
Cost: $1000.00 USD
Online Registration
CEU's: 1.6
Instructor: Howard Senkfor
Course Overview
This course is designed to teach using a practical approach to the chemistry of various coatings types employed on Automotive OEM vehicles. It is targeted for chemist, engineers, formulators and others who want to learn about coating chemistry. The course will take the student from the micro level (how monomer properties impact polymer properties) to the macro level (crosslinking mechanisms, typical additives impact on performance, color, etc…). We will cover the various types of polymers used in thermoset coatings and several of the key cure/crosslinking types (1K and 2K) for baked system used on new cars. In the class we will review Waterborne and Solventborne systems, why one uses various solvents and common additive types. There will be an overview of spray gun and pigment designs, color theory, durability defects and much more. This course is an excellent introduction or enhancement of understanding for a chemist of any level of experience and designed to create a solid foundation of knowledge in OEM coatings. Please see the outline for more details.
Note: While many of Refinish type coatings share similar chemistry with OEM types, they are not the primary focus of this course. Ambient cure coatings' chemistry will not be covered with the exception of Polyureas. Architectural and House coating types are beyond the scope of this course.
Instructor Biography: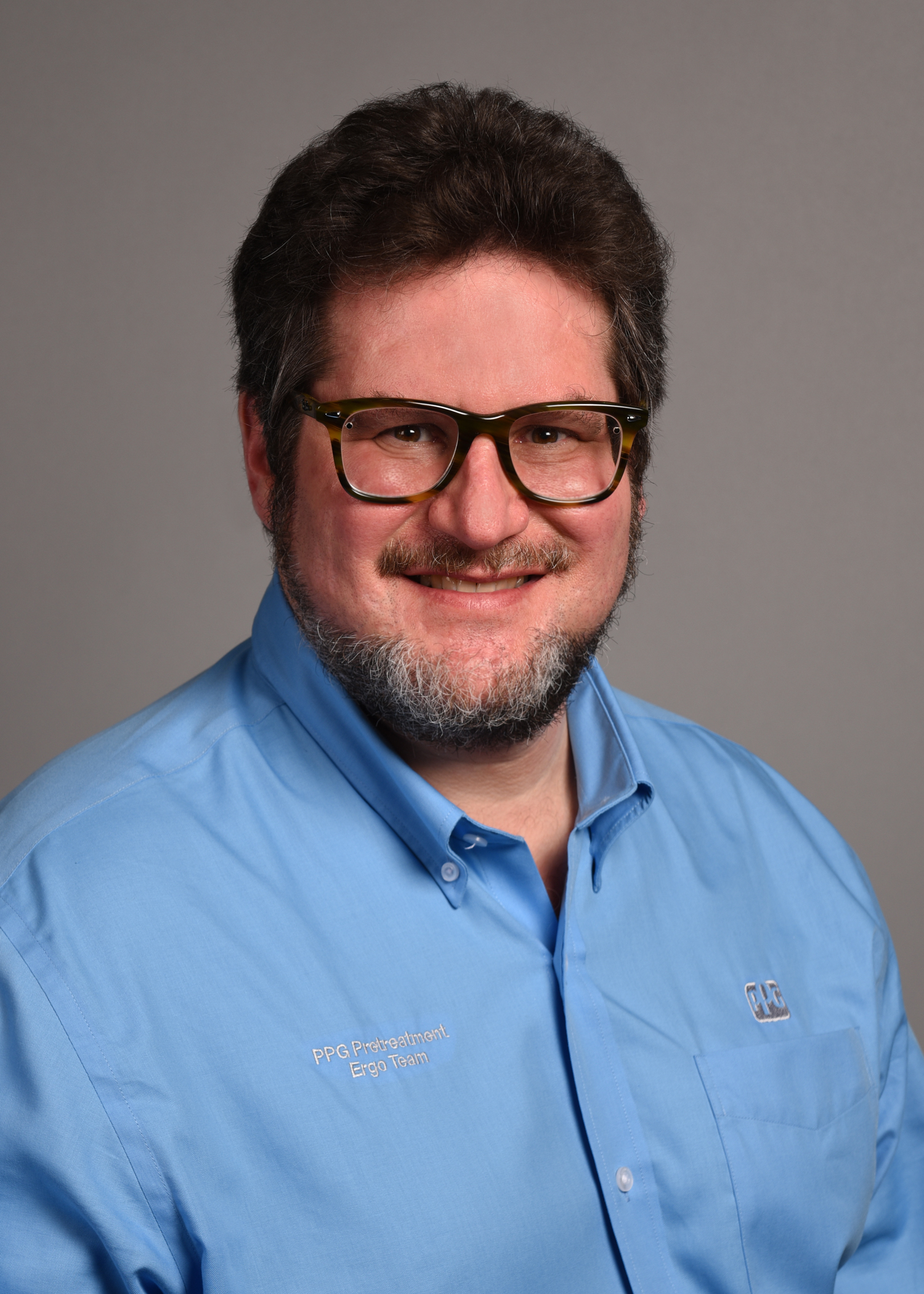 Howard Senkfor has been working for PPG Industries for over 30 years as an expert developing and commercializing a spectrum of Automotive OEM product types including: primers, basecoats, clearcoats, and waterborne/solventborne systems (1K and 2K systems) targeting plastic and metal substrates for global automotive customers such as GM, Ford, Toyota, Nissan, Fiat, BMW, VW, and many others. In addition, has also developed new closed loop waste water treatment products, new coatings for the US Air Force to protect forces & facilities from various threats and has worked with inorganic anti-corrosive Pretreatment coatings designed for mixed metal systems (i.e. Aluminum, Galvanized and CRS).
He is an inventor on 19 issued US patents and as well 20+ international pending patents. His patents cover a wide range of areas including: new classes of organic amines, new fire retardant polymer/coating designs, phosphorus based polymers, poly thio-ureas and polyurea coatings. He graduated from The College of Wooster with Bachelor of Arts degree in 1985 and joined PPG Industries after graduating.
Howard is currently working as a Senior Development Chemist Associate at PPG Industries specializing in anti-corrosion coatings (including thin-film) for the Automotive OEM industry and is an in-house expert on X-ray Fluorescence (XRF) spectroscopy. With his knowledge base, he teaches a number of internal and customer facing classes: Coatings Chemistry, Six Sigma Quality, Lean Manufacturing and other courses.
Paint 101 - Automotive OEM Coatings
Chemistry and Application
Tentative Outline (April 2017)
Overview

Coating layers on Vehicles
Coating vernacular

Polymers
Primer/Basecoat/Clearcoat
Thermo- plastic vs. –set

Overview of paint composition

Properties of Polymers

MW and Tg effects
Intermolecular effects

General Resin (Synthesis) Chemistry/Design of Building Blocks

Acrylics

Synthesis overview and common monomers

Polyesters

Diols, Acids
Structure properties relationship
Examples of polyesters

Urethane Resins

Isocyanates
Examples of urethanes

Poly-THF resins

Crosslinking

Melamine

Reaction/mechanism
Melamine hydroxyl vs. carbamate
Melamine types
Catalyst
Advantage/Disadvantage

Epoxy-Acid

Reaction
Advantage/Disadvantage

Urethane - Isocyanate

Reaction
Examples of Isocyanates
Advantage/Disadvantage

Polyurea - Isocyanate

Reaction
Why Polyurea vs. others

Curing Mechanism Comparison
Waterbase vs. Solventbase

Concept
Latex structure
Coalescence mechanism
Compare/Contrast of Waterborne vs. Solventborne

E-coat

What it is
How it is applied
Cure mechanism

Compact Processing
Other Paint components

Solvents

Solvents Blend & Evaporation profile concept
Types (alcohol, acetate, ketones, etc…)
Roles

Additives

Surfactants
UV/HALS

Mechanisms
Examples

Rheology

Rheology vs. viscosity
Rheology types
Measuring viscosity

Types
Pros/Cons

Rheology Agent examples/mechanism

Pigments

Types
Effect Pigments
Pigment Grinding/Dispersion concepts

Stabilizing dispersed pigments
Grinding Mill design basics

Measuring Color

LAB vs LCH
Color Tolerancing

Painting Processing

Challenges of painting plastic - AdPro
Challenges of painting metal – Cleaning & Pretreatment

How is paint applied

Air Atomized guns
Airless Guns
Turbo Bell guns
Spray Process Management

Durability and Defects of coatings
Cleaning paint lines and Detack/paint wastewater treatment