Continuing and Professional Education
Dedicated to Your Success!
We provide targeted training and business-specific educational offerings using the deep resources of our research university and industry experts.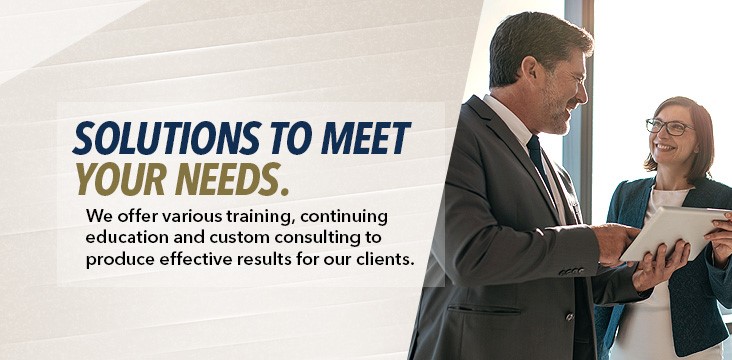 WHO WE ARE AND WHAT WE DO
Continuing and Professional Education is a liaison between The University of Akron and surrounding organizations within the Northeast Ohio region, and beyond. As a connecting partner, we inventory available intellectual and physical resources of the University, and offer a performance consulting service to organizations in search of training, continuing education, or custom consulting. Our clients contract with us for training solutions and professional education services that fit strategic business models. We believe in measurable and obtainable goals, and work with our clients, instructors, and the University to produce results.
Our Services
We offer noncredit and certification programs, both in person and online.
We host over 10,000 online courses for career development and certification, professional development recertification, and personal enrichment.
We provide assistance in planning and delivering on-site or virtual training for employees in organizations of any size, industry, or budget.
We employ instructors who are expert professionals that combine the academic rigor and refinement of a college professor with real-world experience. We believe that offering the best education starts with the best staff and instructors.
We have experience with public sector education initiatives and funding sources.
We offer courses that are approved by professional, national, and state organizations, in addition to license recertification.
The University of Akron has four locations across the Northeast Ohio region. We have an unsurpassed regional footprint, allowing us to serve as a trusted local resource for Ohio's prominent industries and communities.
CPE LEADERSHIP
Wendy Lampner
Director of Online, Continuing, and Professional Education
330-972-2149
wjl3@uakron.edu
Rose Withem
Assistant Director of Continuing and Professional Education
330-972-2116
wrose@uakron.edu
Melissa Olson
Manager of Strategic Initiatives, Online, Continuing, and Professional Education
330-972-5959
mso3@uakron.edu