*** Akron Polymer Training Services now offers remote learning training courses featuring live instructors. For more information, visit our Online Course Requirements webpage. ***
ONLINE COURSE:

Solving Problems in Rubber Compounding and Processing

Course Number: 063-0962
Date: 11/04/2022 - 11/04/2022
Time: 8:00 AM - 4:00 PM
Location: Microsoft Teams
Cost: $1,000 USD
Online Registration
CEU's: 0.8
Instructor: John Dick
Course Overview
This course is crucial for anyone in the rubber compounding field. It provides an in-depth look at processing problems in mixing, extrusion, calendering and molding. Statistics and methodologies for solving factory problems and case studies are covered as well. Participant's current processing problems can be discussed with the instructor. The course includes a copy of John Dick's book, How to Improve Rubber Compounds (Hanser Publications).
Course textbook (eBook PDF):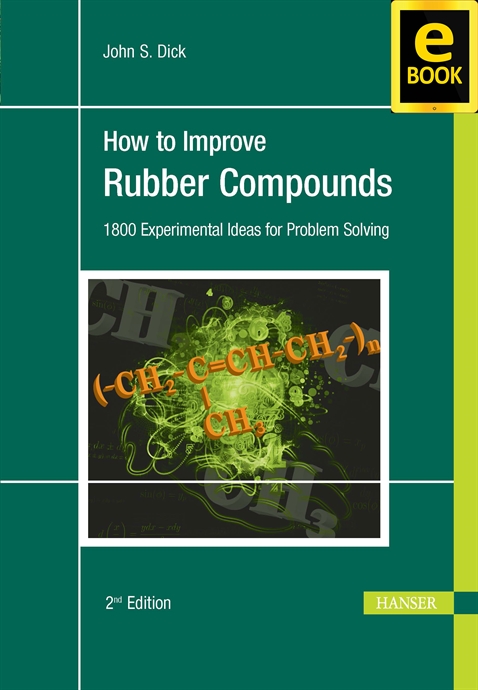 How to Improve Rubber Compounds - 2nd Edition (eBook PDF) by John Dick
Online Course Requirements
We want you to have a great experience participating in our remote (online) courses, and for that, you'll need the right equipment and internet connection.
Minimum needs are:
A broadband internet connection that has at least a 2 Mbps upload and download speed.
A computer (PC or Mac) that can support the latest web browser versions.
At least 4 GB of RAM and adequate hard drive space.
A microphone and a speaker.
International Students: For virtual (online) courses, an additional fee will be assessed to cover the cost of shipping the professional binder (presentation slides), to your address. The cost of international shipping can be significant.
For more information, visit our Online Course Requirements webpage.
Instructor Biography:
John S. Dick, a senior rubber scientist with Alpha Technologies, has over thirty years of experience in the rubber industry. Mr. Dick has authored over 50 journal and magazine publications and four books on polymer technology. He received the Monsanto Master Technical Service Award in 1994, the ACS Rubber Division Best Paper Award in 1995 and a University of Akron Appreciation Award in 1998 for Teaching Polymer Compounding Courses in their Continuing Education Program. He is a Fellow of ASTM International receiving the Award of Merit in 1990. In addition, he has represented the United States as a delegate to the ISO for the last 20 years. He was appointed in 1992 to be Leader of the U.S. Delegation to ISO TC-45 on Rubber. Mr. Dick teaches rubber technology courses at both University of Akron and University of Wisconsin continuing education departments. He received his B.S. degree from Virginia Polytechnic Institute in 1970 and an M.A. from the University of Akron in 1979.
Introduction to Factory Problems
Plant receiving area

Cold flow
Stability of pre-powdered blends
Mixing
Quality of mix
Uncured elasticity (nerviness)
Viscosity
Dispersion
Bloom
Green strength
Tackiness
Stickiness
Lump-mill bagging
Mill back rolling
Extrusion
Die swell
Extrusion rate
Appearance (surface smoothness of extrudate)
Shear thinning
Calender Release
Blisters
Calender release
Molding
Mold release
Mold filling
Non-fills
Porosity
Shrinkage of the cured part
Backrinding
Statistics and Methodologies for Solving Factory Problems
Basic statistical methods to identify special causes of variation

Important principles of Statistical Process Control
Random variation vs. special causes
Establishing control limits and specification limits
Methods to detect special causes of variation
Corrective Actions in the Short Term
Develop a SOP for taking corrective actions for short-term problems
Develop a strategy for establishing long-term solutions to chronic problems
Brainstorming for solutions to problems
Cause and effect diagrams
Six Sigma Techniques for Solving Chronic Rubber Factory Problems
Methodology
Statistical methods
Examples of success in the rubber industry
Nature and Techniques for Solving Problems in Rubber and Compounding and Processing
Changing one variable at a time techniques for improvement of a rubber compound

Advantages and disadvantages

Applying a Design of Experiment

Advantages and disadvantages

Interactions

Multiple response interactions of compound properties
Chemical interactions of compounding ingredients
Case Studies of Rubber Compounding and Processing Problems
Different case studies that include processing and compounding problems will be discussed and reviewed in interactive groups. Then overall discussions will take place to discuss possible solutions and methodologies.
The course textbook, How to Improve Rubber Compounds, will be used throughout the course and during exercises.