Cross-discipline approach serves art students well
03/06/2017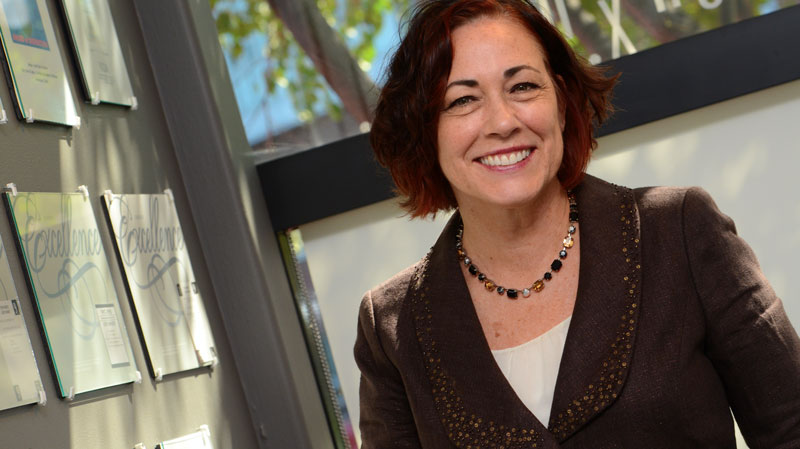 Janice Troutman, director of the Myers School of Art.
For Janice Troutman, it's a matter of pride, but no surprise, that Myers School of Art students and a faculty member walked away with 10 ADDY Awards at the 2017 awards presentation hosted by the Akron Chapter of the American Advertising Federation on Feb. 24.
The professor of graphic design, who is now in her first year as director of the Myers School of Art, has seen armload after armload of ADDYs and other awards make their way into spaces throughout Folk Hall since she joined UA in 1989.
"We're committed to being a fully integrated art and design school. Not all schools are," says Troutman. "We have more and more faculty who are not single area — they are cross discipline."
That expansive approach fits right in with the trends in today's art world, and best serves the interests of the students that fill the studios of Folk Hall, she notes.
"Our students are cross discipline as well," adds Troutman, who was interim director for a year before being named the school's director. "They see what the trends are — the explosion of technology and equipment we have available to us, from 3D printers to laser cutters. It's exciting for them. And for us."
Several School of Art faculty, for example, are involved in UA's Biomimicry Research and Innovation Center (BRIC), a cross-disciplinary initiative that is dedicated to innovation inspired by nature. Biomimic design is seen in the disciplines of sculpture, jewelry, metalsmithing, drawing and graphic design.
Career-focused design studio
While administrative duties fill much of Troutman's schedule, she still makes time for teaching and maintaining her creative outlets — her own projects and working with Design x Nine students.
She founded the career-focused studio more than 20 years ago. It offers students majoring in graphic design extensive learning experiences and engagement with real-world clients, on and off campus. Her co-creative director is John Morrison, an associate professor of graphic design.
To handle the demands of the various projects they'll be asked to produce, Troutman and Morrison look for several qualities when they choose the students for Design x Nine.
"They have to be able to work well in a small group, have a good work ethic and be good designers," explains Troutman. "They make a big time commitment — our projects run across the semesters. They keep time sheets, just as though they were working in a firm."
The results speak for themselves. Each year since its founding, Design x Nine has been honored with ADDYs for its creations. This year, it was a silver ADDY in the professional category for its video titled "My Myers," created as part of the school's recruitment efforts.
"We are educating the future designers and artists," notes Troutman. "It is an exciting space to be entering with the intersection of art, design, science, technology and culture. Students are here with us at the beginning of their training, but following their careers is also quite exciting."
Related