Thursday, May 5, 2016 | 10:30am–12pm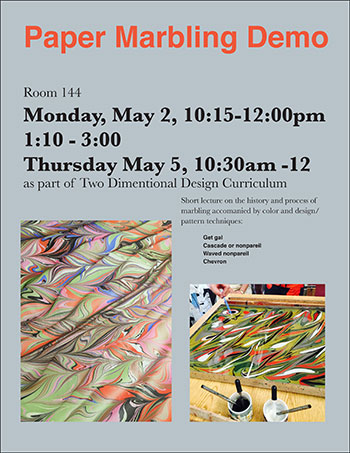 Join us for a short lecture on the history and process of marbling accompanied by these color and design pattern techniques: get gal, cascade or nonpareil, waved nonpareil, and chevron. This demo is a part of the Two Dimensional Design Curriculum, and will be held in Room 144 at the Myers School of Art on May 5th, from 10:30am to noon.
Friday, April 29, 2016–Friday, May 6, 2016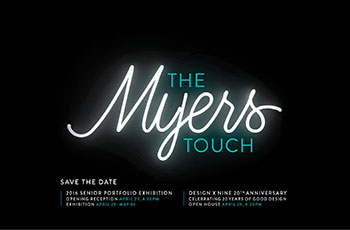 The 2016 Senior Portfolio Exhibition will be hosting its opening reception on April 29, in the Emily Davis gallery starting at 4:30. Attendees will have the opportunity to see the final portfolios created by the senior graphic design class. This event will have food and live music. The exhibition will run from April 29 to May 6. Design X Nine will also be celebrating its 20th anniversary, so attendees are welcome to attend the open house at 4:30.