UNIVERSITY COMMUNICATIONS & MARKETING
Advertising | Creative Services | Email | Marketing | Media Relations | Publications | Social Media | Web
---
What's new in our shop
Rivalry backstory
Our collaboration with Kent State University for a mascot-rivalry video to promote the recent Zips vs Flashes basketball game was a viral hit! The video was posted to Facebook, Instagram, YouTube, and Twitter – with Akron's version of the video drawing 85,743 views total (as of March 17).
---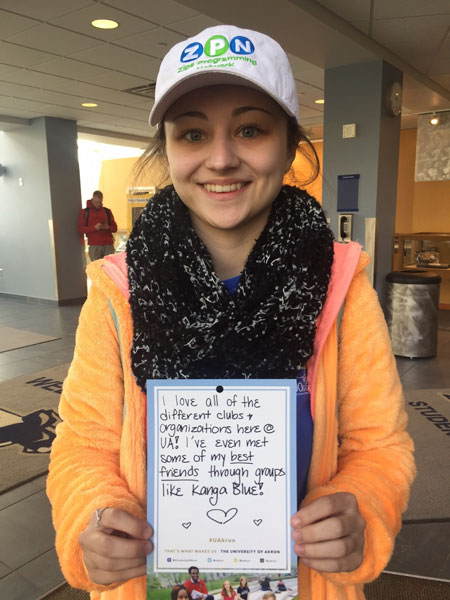 That's what makes us The University of Akron
Students, faculty and staff stopped by the Student Union recently for the latest campus event to reflect our new messaging platform, "That's What Makes Us." This page show pictures and social media posts from the Zips Programming Network's Breakfast With Zippy event.
---
LET US HELP YOU!
Request assistance on a project
---
University Communications and Marketing
Administrative Services Building (see on map)
185 E. Mill St.
Akron, Ohio 44325-0604
330-972-7820
LEADERSHIP
Wayne Hill
Associate Vice President, Chief Communication & Marketing Officer
330-972-2148
whill@uakron.edu