THE UNIVERSITY OF AKRON
DEPARTMENT OF DEVELOPMENT
Welcome, Alumni and Friends!
The University of Akron is grateful for the generous support it receives from alumni, friends, corporations and foundations. The support enables the University to achieve its goals, including funding scholarships, fellowships, professorships, campus renovations, new facilities and much more.
The mission of Development is to strengthen and advance the University's relationship with its alumni, friends and students. It is through these connections that both the University and its constituencies are enriched.
Whether in the form of a gift or through involvement, supporting the University yields an unparalleled return on investment for many benefactors, creating deep and lasting ties to the University – and to the students the institution serves.
You are invited to explore the many opportunities that UA offers alumni and friends to get involved and make a difference!
Donor Stories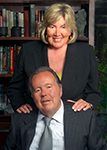 $5 million gift to create museum of rare Native American artifacts
The Oelschlagers are among the University's largest donors and have been supporters for 25 years. This gift will enable the construction of The Oak Native American Museum as part of the Institute for Human Science and Culture at UA's Drs. Nicholas and Dorothy Cummings Center for the History of Psychology.Read more
Knight Foundation announces $3 million gift
The Knight Foundation honored its chairman emeritus, Dr. W. Gerald Austen, an Akron native and world-renowned cardiac surgeon, by creating an endowed chair that bears his name in UA's College of Polymer Science and Polymer Engineering.Read more
Why I give to UA: Mark H. Curley
Montreal native Mark H. Curley believes education changes lives, which is why the banker-turned-professor - who holds UA's political science program in high regard - chose to establish a bequest to benefit future UA students. Read more
In memoriam: Judith A. Read
The University of Akron mourns the loss of Dr. Judith A. Read '63, a community philanthropist and dear friend and alumna of UA. Read more
Honors College named for alumni couple
The Williams Honors College recognizes Dr. Gary B. and Pamela S. Williams, who met at UA and became distinguished alumni, generous donors, and beloved community advocates.Read more
Story Archives
Read how others support UA and learn how you can do the same.