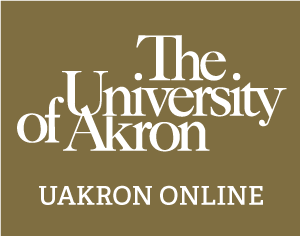 Jump to:
Resources for online learners
Online doesn't mean on your own
The University of Akron provides support to online learners across the nation throughout your tenure at the university. From your first inquiry about a program to your final semester, student services staff members are consistently on hand to guide, advise and assist you.
This overview summarizes the types of services we offer and describes how those services can help you achieve your educational goals:
Technical support
The Help Desk provides a virtual call center, a chatbot, a variety of web-based tutorials, and more.
Can't log in? Call the technology Help Desk (330) 972-6888) or send email helpdesk@uakron.edu
Call Brightspace support, 24 hours per day and 365 days per year at 1-877-325-7778 or use the Live Chat inside Brightspace.
You can also watch Brightspace tutorial videos.
Academic support services
---
Student support services
---
Get ready for online learning
To be successful in an online class, you must be self-disciplined and willing to interact with your classmates and instructor regularly. You must have access to a computer with Internet access and you must be capable of using computers and the Web for basic activities such as sending email and completing online research.
Do you have the necessary computer skills and hardware and software?
Even the best students will not succeed in the online environment if they don't have the necessary tools. Rest assured, you don't need to be a computer wizard to succeed. Lower on this page, we describe the software we use, and you can view videos to get a feel for it.
Time management
Some students in online courses report that online courses require more time than a traditional college course. Many online students also report that they learn more and work harder. In an online course, you will need self-directed time management skills to be successful.
Take the time to put together a schedule to meet the expectations for each of your classes. Prioritize your work. What due dates are coming up first? Make a smart decision about how to best spend your time.
Experience counts
Online students report that the first class is generally the most difficult. Not only will you learn the course material, but you will also learn how to communicate in an online learning environment and how to manage your time. The mechanics of online learning will become automatic after you complete your first online course.
Communication
In a traditional classroom, your questions can usually be answered immediately. You or your classmates can then ask for clarification or ask follow up questions. In an online learning environment, you often communicate asynchronously. You can and should ask questions, but there may be delays between each step of the communication process. For this reason, you will be most successful if you begin your learning and especially your assignments as early as possible.
---
Smart strategies
New to online learning? No problem. Here are some tips to succeed in an online course.
Stay engaged!
You are not alone! You will be able to communicate with your fellow students and your instructor through email, discussion and possibly even web conferencing. Your instructor will post instructions for the available and recommended communication tools. Collaboration is a large component of most online classes. Collaboration is a proven strategy to improve learning. Your participation in class communications will be key to your success!
Take care of yourself
Stay healthy by getting adequate rest, nutrition and exercise. Keep a growth mindset as you adapt to new circumstances. Your success has as much to do with your effort as it has to do with your ability.
Stay organized!
The instructor may post new content every week, and you may have activities to complete. How will you do that? When? Online students have more freedom to plan, but also more responsibility to remember to plan. Look at your calendar and add your online course hours to your calendar every week.
Team up with your friends and classmates
Find ways to connect with your friends and classmates to help each other stay accountable for getting your work completed. Find ways to meet with student groups online in WhatsApp, Facebook groups, GroupMe, Microsoft Teams, or your preferred communication tools. All students have free access to Microsoft Office 365.
Manage your environment
Find a space that is comfortable and allows you to focus. This can be your home base for coursework.
Consider using the "Do Not Disturb" function on your phone or computer as if you were in class on campus.
Learn how to study better here!
Technical support is available
The Information Technology support desk, helpdesk@uakron.edu or 330-972-6888 can help you resolve any computer problems. How do you know whether to contact the Support Center or your instructor?
If you need help with the course subject matter such as writing a paper, contact your instructor.
If you need help submitting the paper you wrote to that instructor, or you cannot log in, contact the IT Support desk.
In some cases, you may need to contact a software vendor for the best technical support. For more information, check out learning resources.
---
Software for online learners
This section offers tips and advice for Brightspace, Office365 and Panopto — software students use to learn online.
Brightspace
Brightspace is the software UA uses to host online courses. Lectures, discussions, assignments, and tests are presented through Brightspace. Login to Brightspace
Learn how use these resources: Brightspace Resources for Students
Need help in Brightspace? Call Brightspace support at 1-877-325-7778 at any hour. There is also an online chat option in Brightspace.
Microsoft 365
Office 365 is a cloud-based subscription service from Microsoft that brings together the best tools for the way people collaborate today. By combining best-in-class apps like Excel and Outlook with powerful cloud services like OneDrive and Microsoft Teams, Office 365 lets anyone create and share anywhere on any device.
As a member of The University of Akron, will be able to access Office 365 for free. Students can use Office 365 for up to one year after graduation. Office can be installed on your Mac or Windows PC, or, on your iOS, Android or Windows Mobile device.
Panopto
Panopto is a popular tool that many instructors use to record lectures. If your instructor is using Panopto, you will find the link(s) in your Brightspace course content. No software is required to view the lectures. Tips on getting the most from Panopto lectures can be found at the Panopto Support site.