Awards, honors and recognition
Giving you the recognition you deserve for the great achievements you make.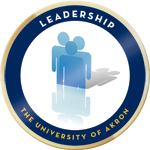 HOW IT WORKS
Students participate in events and activities around campus.
University Communications and Marketing gets a list of students who participate and writes a short article about the event.
An article is published to Merit and the local newspaper of each student is notified.
Students involved get an e-mail to their University account saying they were awarded a merit badge.
Badges can be tweeted or shared on Facebook.
CLAIM YOUR PAGE
At some point in time you'll get an e-mail from Achievement from the address achievement@uakron.edu - it's safe and not spam.
To redeem your badge, you can either create an account with your UAkron e-mail, or login with your personal Facebook or Twitter account.
WHY IS THIS IMPORTANT?
Merit helps employers find the "good stuff" about you, and it recognizes accomplishments with official college badges that show they're authentic.
A Merit page creates a positive online identity for post-graduation success. Many companies now research applicants online, and some have rejected applicants based on what they find. Your Merit page is a way for you to shine online.
ENHANCING THE AKRON EXPERIENCE
Students' Merit pages show how The Akron Experience prepares students for a career, and makes them valuable members of society and more attractive to employers. The profiles connect what students do in the classroom to the exceptional career-building opportunities students gain at UA.
QUESTIONS OR NOT INTERESTED?
Email your question or request to opt-out to achievement@uakron.edu.
The Feed of Achievements!