Shawn Barber is national indoor pole vault champion
03/16/2014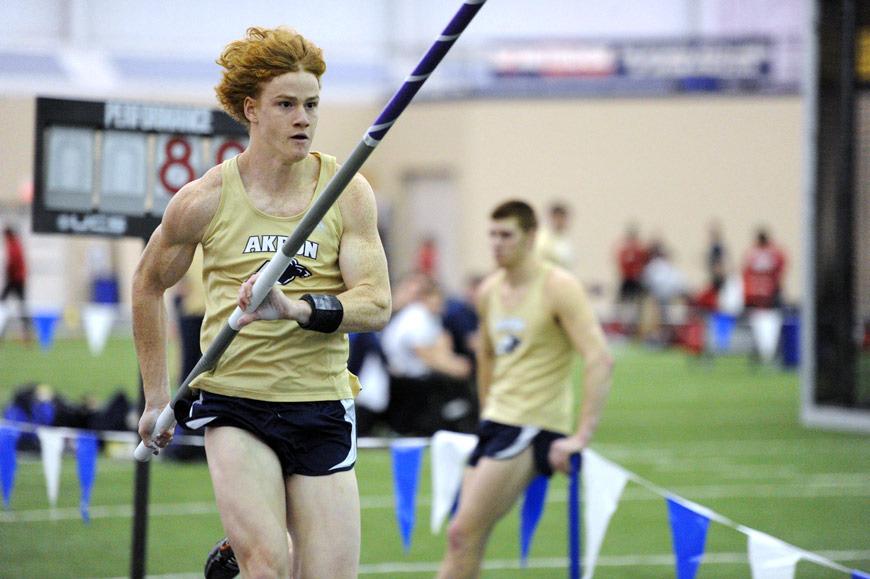 ---
Sophomore Shawn Barber became UA's first male individual national champion by winning the pole vault competition in record-setting fashion at the NCAA Indoor Track & Field Championships Saturday evening at the Albuquerque Convention Center.
With a winning clearance of 18-10.25 (5.75m), Barber smashed his own Canadian National record and bested 2013 NCAA Outdoor Champion Sam Kendricks of Ole Miss in a thrilling dual. Barber, who calls Texas home but owns dual citizenship, is the Zips fourth individual national champion overall and the third from the track & field program.
Barber, who placed fifth at the NCAA Indoor championships a year ago as a true freshman, had very little trouble clearing heights throughout the competition. In fact, he didn't suffer his first miss until 14 other athletes had already been eliminated and he was head-to-head with Kendricks at a height of 18-06.50 (5.65m).
The physics of pole vaulting featuring national champion Shawn Barber
UA physics graduate Eric Copenhaver discusses the concepts underlying a successful pole vault attempt with UA Track & Field Coach Dennis Mitchell, focusing on the technique of UA sophomore Shawn Barber, who won national championship in pole vaulting at the 2014 NCAA Indoor Track & Field Championships.