Wisdom begins with wonder: Art transforms Bierce Library
08/20/2021

The new mural in Bierce Library.
Every semester for 10 years, the cafe in The University of Akron's (UA) Bierce Library has been a place students gather to eat and study, and a location where many campus tours take a pause. Before that, it was used as a storage area and workspace for staff. Nobody knew how much more this space could be revitalized; nobody, that is, except the Art Bomb Brigade, a local community mural arts and education group.
Art Bomb was founded by UA faculty members Elisa Gargarella and Marissa McClellan from the Myers School of Art to provide students and alumni with the materials to "muralize," or transform through art, highly trafficked sites in the Akron area. The program includes an art elective class, in which students in the fall 2020 class were challenged with giving the two long walls inside the library's cafe a makeover. The result was a beautiful piece titled, "I Wonder…"
Hear from some of the students who designed and painted the mural.
Now when students and visitors enter Bierce Library, they are greeted by a colorful scene: numerous papers flowing across the walls from a burning candle, all over a blue, gold, white and red background. The title refers to 12 statements written on the largest pages, with thoughts that range from, "I wonder if the world is a better or worse place with me in it?" to, "I wonder what my dog named me?"

Before and after photos of the first wall.
Many members of the UA community were involved in this project from beginning to end. To arrange the mural site, Gargarella and McClellan worked with Stephanie Everett, manager of planning, communications and engagement at University Libraries.
"On the first visit, students did a formal consultation with Dean Aimee deChambeau and Assistant Dean Melanie Smith-Farrell," said Everett. "During the consultation they documented the site in various ways — measured, photographed, located outlets — and looked for potential issues. They also asked library staff questions to help them choose between three possible themes: icons and symbols, authors, or a design or pattern."
In addition to the four students featured in a YouTube video by Jamie Newhall, the class also included Debra Bateman, Orion Bonney, Caydon Lloyd, Jacob Spinner and Claudia Napier. Back in the classroom, they started with basic ideas and color studies. Each pitched a concept that could be further developed using mood boards, and together narrowed down their choices to a few ideas that they then presented to deChambeau and Smith-Farrell.

An early sketch, the first to include the pages flowing across the picture.

This sketch was presented to faculty.

In the end, a few of their suggestions were fused together, such as the Vicker's candle and Bateman's background. This design process took the first six to seven weeks of the fall 2020 semester, and on Oct. 16, 2020, they began in the library with the line art and coloring of the shining rays, then the five-and-a-half-foot tall candle and the many pages that float from its flame. They finished on Dec. 7, seven weeks later.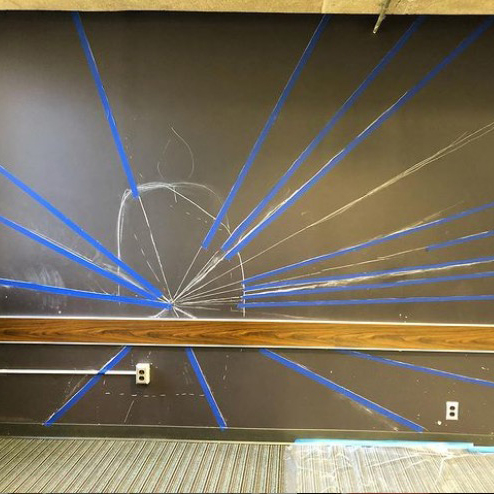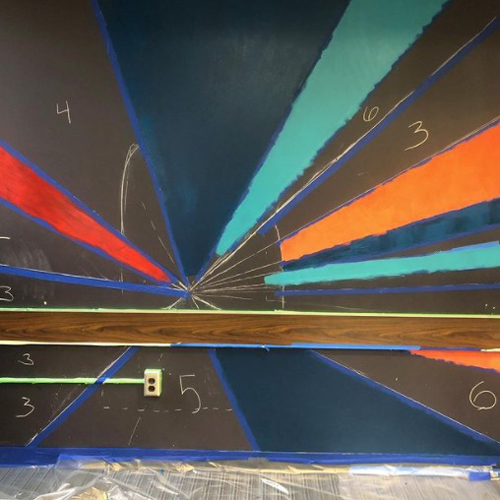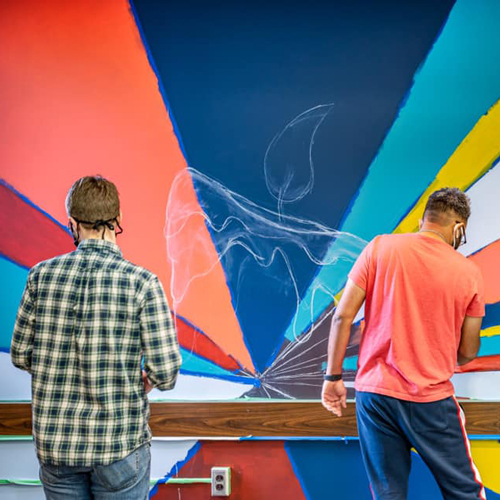 Some of the composition and coloring choices weren't cemented until the group was painting.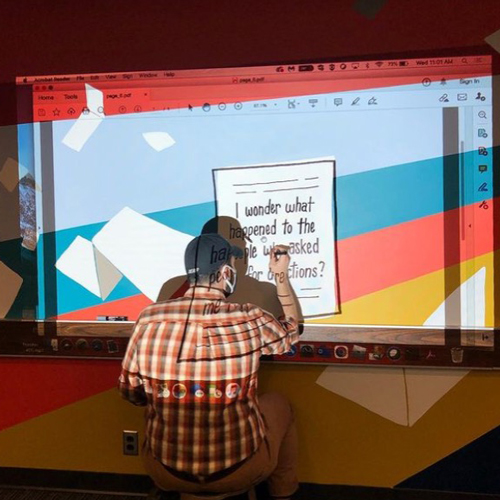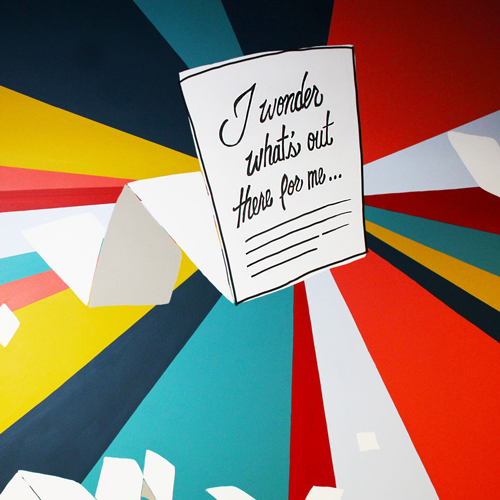 Student Jacob Spinner hand-lettering a thought.
---
Story by: Deborah Endis
Media inquiries: Lisa Craig, 330-972-7429 or lmc91@uakron.edu
MORE: