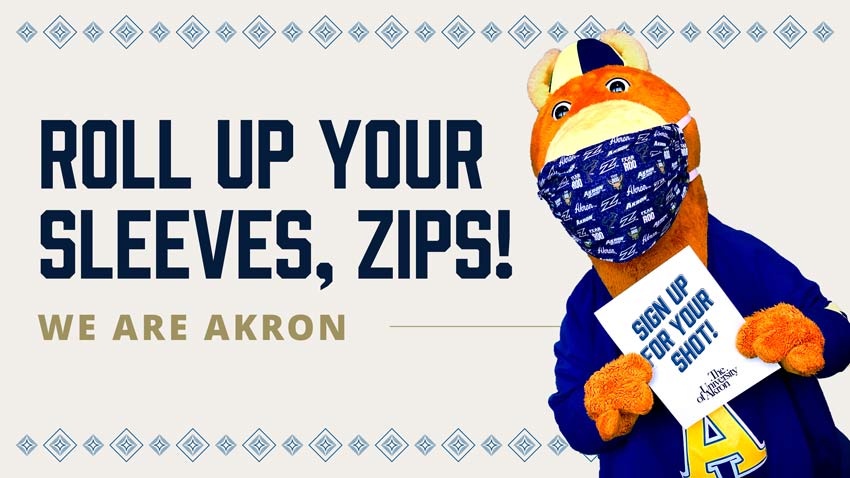 Vaccination clinics and policy
UA pauses vaccination clinics
April 13, 2021
UA will pause all on-campus COVID-19 vaccination clinics in accordance with the recommendation from the state of Ohio, the Food and Drug Administration and the Centers for Disease Control. The University was administering the one-dose Johnson & Johnson vaccine, but will pause following the occurrence of extremely rare blood-clotting events involving six people in the United States after receiving the vaccine.
Students who already scheduled appointments to receive the vaccine at UA clinics on April 14-15 will receive an email with additional information.
Anyone who has received the Johnson & Johnson vaccine and develops severe headache, abdominal pain, leg pain or shortness of breath within three weeks after vaccination should contact their health care provider. Counseling services are also available to students by appointment at 330-972-7082.
The University will communicate plans for resuming vaccination clinics as more information becomes available.
Policies for those who have been vaccinated
Feb. 25, 2021
We have received many questions about the vaccination and how it will affect your activities on campus.
What can you do now?
Getting the vaccine once it is available to your designated group is necessary to reopen campus to the fullest and safest extent possible.
Until a substantial number of Ohioans can be vaccinated, proper prevention, like wearing masks and social distancing, will reduce your chance of being exposed to or spreading the virus. As a Zip, you are expected to continue following all campus guidelines.
You've received your vaccine…now what?
Even after receiving a COVID-19 vaccine, you must follow campus policies, which includes wearing face coverings, participating in screening tests and maintaining social distance. We encourage you to remain diligent and follow guidance from the Centers for Disease Control and Prevention.
Would I still need to quarantine if I've received the COVID-19 vaccine and I've been contacted by a contact tracer?
If you have received the COVID-19 vaccine, you would be exempt from quarantine if you meet ALL the following requirements:
Have had both doses of the vaccine.
Had their final dose at least two weeks ago and less than three months ago.
Are not showing coronavirus symptoms.
In addition to local and state protocols, we will continue to follow guidance from the CDC for quarantine and isolation. Individuals who are ill or have been exposed to someone with COVID-19 should complete the University reporting form.
UA's COVID-19 Response Team, as well as local and county health officials, will continue to address questions and concerns as they arise. We thank you for your patience as we begin to navigate this next phase of the pandemic together.
---
NEXT