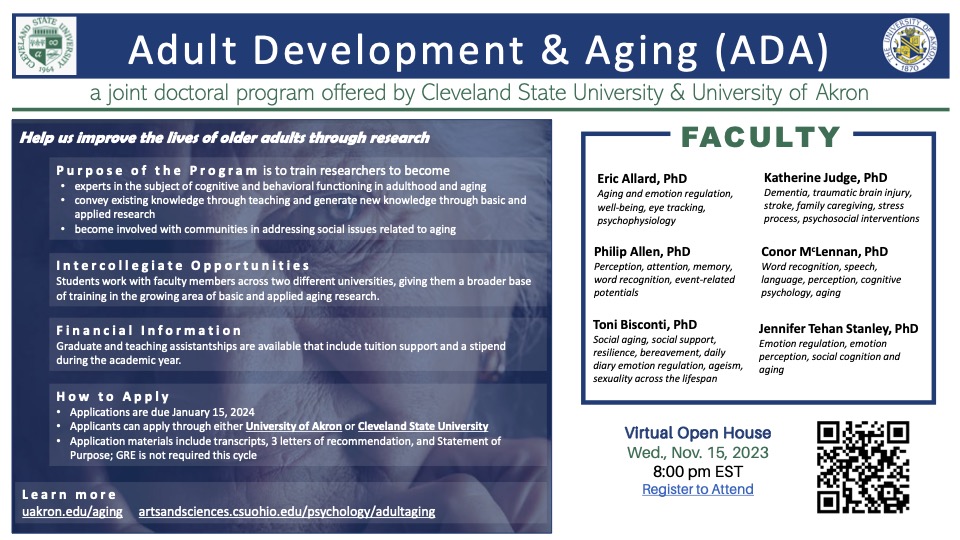 THE UNIVERSITY OF AKRON & CLEVELAND STATE UNIVERSITY
Adult Development and Aging Ph.D. Program
The psychology departments at The University of Akron and Cleveland State University offer a joint doctoral program in the Psychology of Adult Development and Aging. Our unique program is one of only a handful of Adult Development and Aging doctoral programs in the country, and the only one in the state of Ohio.
By the end of doctoral training, our students are well-prepared to work in a number of roles including research, teaching, and applied settings.
Research Training
Given the dramatic shifts in global demographics toward an increasingly older society, the need for expert researchers in adult development and aging is at an all-time high. Our students are trained by experienced, full-time faculty using a mentor model. Each student works with his or her mentor to develop and carry out research projects of mutual interest. The faculty mentor serves as an expert guide, providing frequent, casual, and structured supervision to students as they gain research design and analysis skills. Students submit completed projects for presentation at regional and national conferences and for publication in peer-reviewed journals. Students are also encouraged to collaborate with other faculty and students on additional projects of interest.
Teaching Training
Students admitted through University of Akron receive formal training on best practices in teaching undergraduate students in a seminar provided in the summer prior to their first year. In addition, students continue to receive support, guidance, and supervision in hands-on teaching opportunities.
Curriculum
Students admitted to the program are required to take approximately equal amounts of coursework at each institution. The coursework covers the areas of research methods/design, foundation courses in adult biobehavioral functioning, adult psychosocial functioning, and advanced research seminars (e.g., cognitive functioning, advanced statistics). All coursework and training are only offered in person. This program is not offered online.
Program Features
Links with Cleveland area medical and research institutes
Opportunities to train and collect psychophysiological measures:

electrodermal activity
electrocardiogram
pupilommetry
eye-tracking
electroencephalogram
For More Information
Refer to the graduate student handbook for more information about research milestones, course requirements, and comprehensive exams.
For other questions contact:
Dr. Jennifer Tehan Stanley
Phone: 330-972-8376
Email: jstanley@uakron.edu