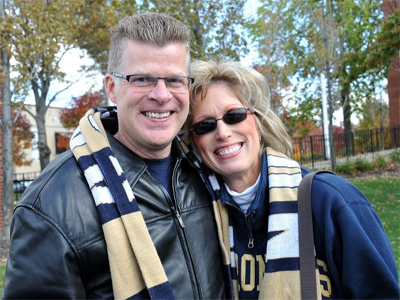 PARENTS & FAMILY
Family Focus Orientation
New college students need a strong support system to help them make a successful transition to the University. You can support your UA student by participating in Family Focus Orientation during New Roo Orientation! The Family Focus schedule runs along side your student's schedule.
For Family Focus 2021 - due to capacity limits, we have limited each student to just one guest at this time in an effort to give the family of each student a chance to attend. Thank you for your understanding!
If you cannot attend, or attended and would like reference to the presentations and other information, we've created a page for you to access everything. Make sure you visit the Online Orientation Parent Hub.
Parent and Family FAQs
Is there a cost associated with Family Focus Orientation?
Nope! Family members are free to attend with their student.
Is Family Focus Orientation mandatory?
Nope! It is up to you and your student if you would like to attend. About 50% of students who attend orientation bring a family member. If you cannot attend, presentations are available to view online (see schedule above) and you can utilize the digital version of the Parent and Family guide on this page.
Do I have to register to attend?
Nope! You can just show up the day of with your student!
Do I have to stay for the whole program?
Nope! Family members can feel free to come and go as they please. Students are required to complete all components of their orientation day. You will be provided with a schedule with session locations in the morning so you can navigate to and from sessions if you don't want to stay.
Why am I not in advising with my student?
We know that you have a strong interest in your student's experience at The University of Akron. We believe that parents & family play a very important role in a student's college success, a role no other person can fill. We use the academic advising portion of your student's orientation program to begin to get to know them, to work with them on discussing their goals and aspirations, and to assist them in making decisions. We encourage you to keep the lines of communication open with your student and talk with them directly on their day. Opportunities include during lunch and also at the close of the program. As time is built to utilize university services at the close of the program, a parent or family member may seek to communicate with their student's academic advisor if they have questions.
When do students receive the information that family members are getting?
The student orientation experience focuses on timely information, so additional campus information is provided closer to the start of classes via Email and New Roo Weekend.
Your orientation parking permit.
Comfortable walking shoes, you will be walking!
Lightweight jacket or sweater, some air-conditioned rooms can get chilly!
Umbrella, if rain is in the forecast.
Money, if you would like to visit our bookstore to purchase UA gear!
We provide a light breakfast and lunch is complimentary, so no need to bring food!
Your questions, because we're here to help!
Are there campus banking options?
Campus Banking Options: PNC is making it easier for you to keep track of your money at The University of Akron. PNC has convenient on-campus locations, with 8 PNC ATMs located on and around campus, and a PNC branch located in the Student Union. Show your school pride with a PNC Bank Visa® debit card designed just for your university! Request your customized university PNC Bank Visa debit card when you open your Virtual Wallet Student. Visit
pnc.com/uakron
to learn more! Visa is a registered trademark of Visa International Service Association and used under license. Virtual Wallet Student is a registered trademark of The PNC Financial Services Group, Inc. ©2020 The PNC Financial Services Group, Inc. All rights reserved. PNC Bank, National Association. Member FDIC