Akron Law student overcomes adversity to realize her dream a continent away
03/27/2023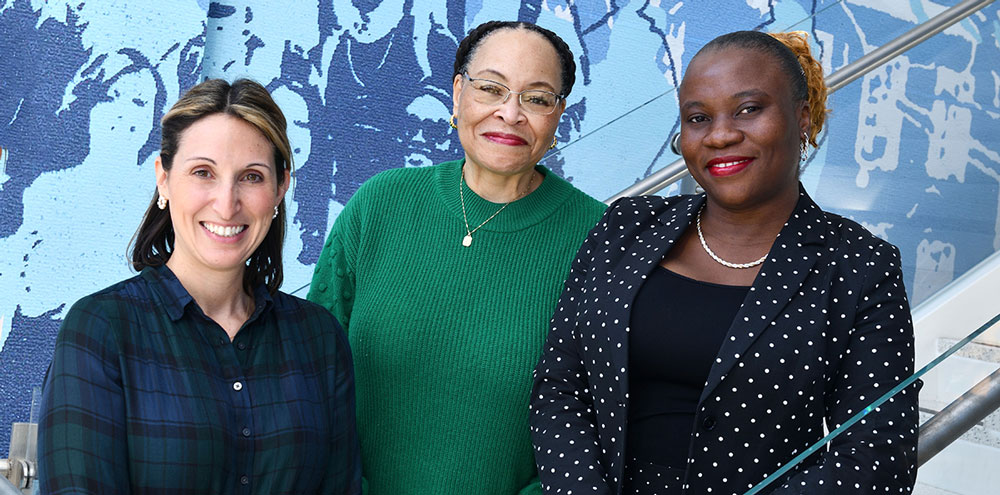 Left to right: Assistant Dean for Career Services and Strategic Initiatives Alisa Benedict O'Brien, Associate Dean of Student Engagement and C. Blake McDowell, Jr. Professor of Law Willa Gibson, and Tolulope Ajifowobaje. Photo by: Scott Horstman
Tolulope Ajifowobaje knew since she was 12 that she wanted to be a lawyer. But growing up in Nigeria, she never could have imagined she would be studying for her Juris Doctor (J.D.) degree at The University of Akron School of Law, where she would land a summer internship with a Fortune 500 company, win a nationally competitive scholarship and receive a prestigious legal fellowship.
Ajifowobaje was raised in a single-parent household and felt determined from a young age to fight injustice and improve conditions and opportunities for other women.
"I come from a background where my dad felt it was acceptable to beat my mom, like every other day," she said. "She eventually left him, but I also saw bits and pieces of that around me with different families. As I got older, I came to realize some people are not strong enough to speak for themselves. I felt like that was my calling, to speak for them."
She pursued that path, earning a master's in law degree at the Nigerian Institute of Advanced Legal Studies and spending more than a decade in the legal field, starting as a legal officer at the Nigerian Electricity Regulatory Commission before establishing her own practice, where she assisted clients with matters related to domestic abuse, constitutional law, contracts and land ownership. During that time, she married and had two children.
In 2019, her husband, an electrical engineer, got an opportunity to migrate the family to the U.S. They both felt this would be a great opportunity for the family, even though she would have to start her legal career all again. The plan was that her husband would continue to work and she would go to law school and earn her J.D. so she could practice in the U.S.
In the months before they left, her husband hadn't been feeling well, but no one suspected it was anything serious. They planned to get him checked out after they got to the U.S. However, he became extremely ill on the flight and was taken straight to the hospital upon landing.
The diagnosis was cancer. He underwent surgery but never recovered. He died two weeks after arriving.
A glimmer of hope
At the burial in Maryland, where her husband had family, Ajifowobaje spoke with an in-law who was studying in Cleveland. She invited Ajifowobaje and her children to stay in her house for a while. This would give her time to mourn—away from her husband's family—and decide on her next steps. As Ajifowobaje explained, while it is not the law in Nigeria, many people there still believe in the traditional practice whereby when the husband passes, the widow is not expected to have any say in the affairs or estate of her late husband but is expected to undergo some demeaning traditional rites and the property reverts to his family, not his widow and children.
She decided she would remain permanently in the U.S. with her children and pursue her quest for a career path into the U.S. legal system, while also fighting for her rights in the Nigerian court. And then things started falling into place.
Through a mutual friend, Ajifowobaje was connected to Norman James, whose nephew happened to be Nolan James, Akron Law class of 2012 and a former assistant dean of admissions. In that role, he had helped launch the school's innovative two-year J.D. program for students and practicing lawyers with a foreign law degree. Even better, he introduced her to a Nigerian lawyer, Olaide (David) Oseni '20, who was just completing the program.
Ajifowobaje visited a couple other law schools before her interview at Akron Law. Norman James drove her to each of the law schools. She met Oseni that day at Akron and he introduced her to the Akron Law admissions team.
The admissions staff at Akron emphasized three things," she recalled. "Number one, they sold me on the school's career services. The other schools didn't talk much about that. At the time I was thinking of paying someone to rewrite my CV for the American market. [Assistant Dean for Career Services and Strategic Initiatives Alisa Benedict O'Brien] told me, 'No, we will do all that for you. We will get you interviews and find you a good job. You just do the best you can in law school.'"
The second factor was the accelerated two-year J.D. program. She had assumed it would take three years to get her J.D.
"The third reason I came here was the warmth of all the people I met, the way they answered my questions. And the building itself just felt really welcoming. After the visit, I told Norman that I was done looking."
Still struggling
She was accepted to start in January 2021, but after one week, she asked to defer until the fall. She was still struggling with her loss when August came around, but she started classes anyway.
"I'm not going to lie. I didn't think I was going to make it through first semester." She had fallen behind most of her classmates, her financial situation was dire, childcare remained a challenge, and she still had clients in Nigeria to attend to. She was only getting three hours of sleep at night.
She opened up to two of her professors who counseled her to start seeing a therapist. Associate Dean of Student Engagement and C. Blake McDowell, Jr. Professor of Law Willa Gibson provided emotional and academic support. She introduced Ajifowobaje to the president of the Black Law Students Association, who provided her with class outlines and advised her on what her professors expected and how to approach each class.
For Ajifowobaje, it was a turning point. "Things just started getting better. I learned the biggest problem was that I was keeping everything in. I didn't want anybody to know what I was going through. And that was killing me."
When first semester grades came out, she was impressed to see that her GPA placed her in the top ten percent of the class. And her grades continued to improve in the two semesters that followed moving her up to the top five percent. She is on track to graduate in May, 2023.
"It was pretty obvious to me early on that she was very capable of doing the work," Gibson said. "She just needed someone to be a cheerleader. She later took a couple of my classes and did very, very well."
The corporate world beckons
With support from Career Services, Ajifowobaje secured a summer internship with Sherwin-Williams, where she said she had the opportunity to work in many different areas of the law, from contracts and internal policy reviews, to employment, litigation, immigration and music licensing.
"They are very pleased with her," O'Brien said. "They kept her on part-time after the internship, which doesn't happen very often. Her direct supervisor speaks highly of her—not only her work product, but the energy and positivity that she brings to the office."
Early last fall, Ajifowobaje applied for a nationally competitive diversity scholarship posted on the Law School's student blog. As months went by, she forgot about it. Then a letter arrived in early February telling her she was one of seven scholars selected from a record number of applicants to receive the $2,000 scholarship.
"I was so excited because it came at a time when I really needed something like that. Being selected and reading their words of encouragement gave me such a boost," she said.
And that wasn't all of the good news. In September 2022, Ajifowobaje was named the Goodyear Tire & Rubber Company Legal Fellowship recipient for 2023-2024. She will start working at the company in August.
"The 12-month fellowship is a partnership between Akron Law and Goodyear that is in its fourth year," O'Brien said. "Each fall they select one of our 3L applicants to work in the corporate legal department."
"Goodyear does an amazing job of mentoring the fellows. They make sure they get experience on a wide range of legal matters and build a strong network. The job search was very short for the first two fellows."
Tolulope said she has really enjoyed working at Sherwin-Williams and looks forward to another year in-house at Goodyear. The next step after that will likely be to join a law firm. But she won't forget her calling to defend the rights of women and the indigent and help young women to dream big.
"I'm so glad everything worked out for Tolulope," Nolan James said. "She has a very bright future—it's limitless. Akron Law is lucky to have her. She could have gone anywhere."
---
Related:
Visit International J.D. for more information about the accelerated two-year J.D. program for students and practicing lawyers with a foreign law degree.