Two Akron Law Students Advance to National Trial Competition in April
02/19/2013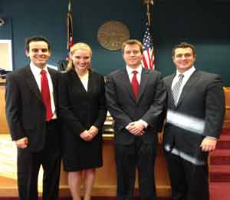 This past weekend The University of Akron School of Law continued its winning tradition in trial advocacy when it hosted the regional round of the National Trial Competition. Twenty-two law student teams from Ohio and Michigan competed in the tournament.
Three teams from Akron Law competed in the tournament. The team of Max Hiltner and Joseph Darwal was one of two winners of the competition. They will join a team from The Ohio State University Moritz School of Law to compete in the national competition April 3-7 in San Antonio, Texas. The team of Holly Facer, Joshua Rau and Kelsey Carson narrowly missed advancing to the quarter final round. Both teams are coached by Akron Law alumnus, Aaron Howell ('06).
Akron Law students Anthony Wise and Kelle Redepenning were the third Akron Law team competing in the regional tournament. They volunteered at short notice to compete when another law school withdrew one of its teams. More than 100 judges and lawyers volunteered their time to serve as judges for each of the five rounds of competition. One hundred and fifty volunteers served as witnesses for the competition, and more than 50 Akron Law students volunteered to be witnesses.
The National Trial Competition was established in 1975 to encourage and strengthen students' advocacy skills through quality competition and valuable interaction with members of the bench and bar. The program is designed to expose law students to the nature of trial practice and to serve as a supplement to their education. It is the Texas Young Lawyers Association intent to provide a meaningful contribution to the development of future trial lawyers.
The University of Akron - A Winning Tradition
In the last 25 years Akron Law trial teams have been champions or co-champions in the 41 district tournaments sponsored by the Association of Trial Lawyers of America (ATLA) or Texas Young Lawyers Association National Trial Competition (ABA/NTC). At the national level, they have placed second four times in the ATLA or NTC Tournaments, were national quarterfinalists eight times, national semifinalists twice, and national champions in the 2004 ATLA Tournament. Additionally, Akron Law teams have been invited to compete in the prestigious National Institute for Trial Advocacy (NITA) Tournament of Champions 18 times since 1989. Akron Law won the National Championship in 2003 and also won Best Advocate honors. Akron Law placed second at the Tournament in 2004 and won the Award for Best Advocate, Preliminary Rounds. Akron Law also placed second in that tournament in 2005 and 2007 once again won the Best Advocate Award.
Photo Caption: Pictured third from left is Akron Law student Max Hiltner and pictured fourth from left is Akron Law student Joseph Darwal