Robert L. (Larry) Tucker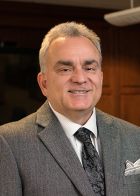 ---
Biography
Robert L. (Larry) Tucker has held an appointment as an Adjunct Professor teaching Insurance Law at the University of Akron School of Law since 1999. In 2010, he received the John R. Quine Outstanding Adjunct Faculty Award, which is presented to the adjunct professor who has most successfully combined a practical approach to the teaching of law with a scholarly approach to the private practice of law. His published articles have been cited as authoritative by federal and state courts from Delaware to Hawaii, and in more than 50 articles written by other scholars.
He is one of the founding partners of Hanna, Campbell & Powell, LLP. His practice focuses primarily on insurance coverage matters, including the representation of both insurers and policyholders. In addition, he serves as an arbitrator for several elite providers of alternative dispute resolution services, including the American Arbitration Association. He is a member of the AAA's Commercial Insurance panel and its Complex Coverage Neutral Evaluation panel, both of which are composed of nationally recognized coverage experts, academics, and former judges with insurance law expertise.
He received his Bachelor of Science in Commerce from the University of Virginia in 1980, and his Juris Doctor cum laude from the University of Akron School of Law in 1984. In 2008, he was awarded an LL.M. in Insurance Law with honors from the University of Connecticut School of Law. Upon the recommendation of the faculty, he was awarded the 2008 Insurance Law Center LL.M. Prize, which is conferred upon the student receiving the Master of Laws degree who best exemplifies commitment to distinguished scholarship in the field of insurance law and dedication to service to the community.
Education
B.S., University of Virginia
J.D., University of Akron
LL.M., University of Connecticut
Courses Taught
Insurance Law
Bar Admissions
U.S. Supreme Court
U.S. Court of Appeals, Sixth Circuit
U.S. Court of Appeals, Federal Circuit
U.S. District Court, Northern District of Ohio
U.S. District Court, Southern District of Ohio
U.S. District Court, Northern District of Florida
Ohio Supreme Court
Professional Affiliations and Activities
Ohio State Bar Association
Akron Bar Association
American Arbitration Association
AALS Insurance Law Section
Defense Research Institute
Ohio Association of Civil Trial Attorneys
---
Publications
Stolen Art, Looted Antiquities, And The Insurable Interest Requirement, 29 Quinnipiac L. Rev. 611 (Summer 2011)
Disappearing Ink: The Emerging Duty To Remove Invalid Policy Provisions, 42 Akron L. Rev. 519 (Spring 2009)
Information Superhighway Robbery: The Tortious Misuse Of Links, Frames, Metatags, And Domain Names, 4 Va. J. L. & Tech. 8 (Fall 1999)
Deposed Parties: Who Has A Right To Access Depositions In Civil Cases?, 13 Ohio Lawyer 12 (Jan./Feb. 1999)
The Bad News About Good Faith For Excess UM Carriers, 15 Bad Faith L. Rep. 28 (March 1999)
Industrial Espionage As Unfair Competition, 29 U. Tol. L. Rev. 245 (Winter 1998)
"And The Truth Shall Make You Free": Truth As A First Amendment Defense In Tortious Interference With Contract Cases, 24 Hastings Const. Law Q. 709 (1997)
The Flexible Doctrine Of Spoliation Of Evidence: Cause Of Action, Defense, Evidentiary Presumption, and Discovery Sanction, 27 U. Tol. L. Rev. 57 (1995), reprinted in, 46 Def. L. J. 587 (1997)
Vexatious Litigation As Unfair Competition, And The Applicability Of The Noerr-Pennington Doctrine, 22 Ohio N.U.L. Rev. 119 (1995)
---