Tracy A. Thomas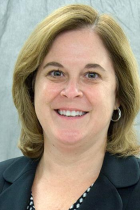 ---
Biography
Tracy A. Thomas is the Seiberling Chair of Constitutional Law and Director of the Center for Constitutional Law. She teaches Constitutional Law, Remedies, Women's Legal History, Alternative Dispute Resolution, and Family Law. Professor Thomas served as Associate Dean for Institutional Excellence at Akron Law from 2015 to 2016. She also she served as Director of Faculty Research from 2007 to 2009.
Professor Thomas received her B.A. degree, cum laude, from Miami University, M.P.A. degree from California State University and J.D. degree from Loyola Law School, Los Angeles, where she was a member of the Order of the Coif and production editor of the Loyola of Los Angeles International and Comparative Law Journal. Prior to joining the Akron Law faculty in 1998, she clerked for Judge Ferdinand F. Fernandez on the U.S. Court of Appeals for the Ninth Circuit, and was a litigation attorney for Covington & Burling and Neighborhood Legal Services in Washington D.C.
Professor Thomas is the author of the book Elizabeth Cady Stanton and the Feminist Foundations of Family Law (NYU Press 2016) exploring the historical origins of legal reform for gender equality in the family. She is the editor of West's annual volume of Women and the Law and co-editor of Feminist Legal History: Essays on Women and Law (NYU Press 2011). Professor Thomas is the author of numerous articles on equitable remedies and her work has appeared in the Hastings Law Journal, the U.C. Davis Law Review, and the Washington University Law Review. She is lead editor on West's casebook, Remedies: Public and Private. Professor Thomas' research has been cited by the U.S. Court of Appeals for the D.C. Circuit, the Supreme Courts of Georgia, Vermont, and Washington, and the federal district courts of Nebraska.
Professor Thomas is editor of the Gender & the Law Prof Blog (on Twitter @ProfTracyThomas). She spoke with the National Constitutional Center about her research on women's legal history and its modern relevance in this We the People podcast.
You can view Professor Thomas' research on Google Scholar here.
---
Publications
---