Getting to know Mitchell S. McKinney
05/12/2022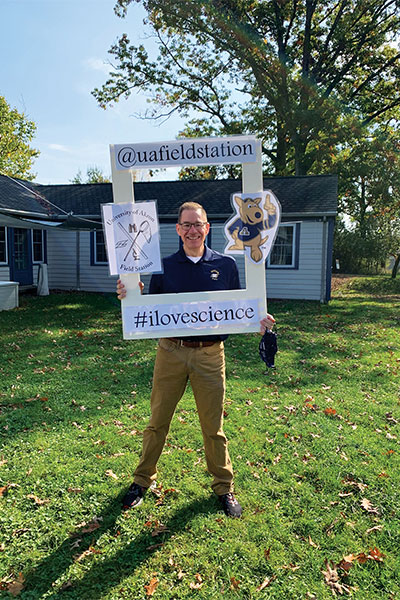 Dean Mitchell S. McKinney leads the Buchtel College of Arts and Sciences
Drawing on his background as a political communication scholar, Mitchell S. McKinney, Ph.D., is dean of the Buchtel College of Arts and Sciences. He joined UA from the University of Missouri, where he served as professor of communication and director and founder of the Political Communication Institute. For the spring '22 issue of The University of Akron Magazine, Dean McKinney answered a few quick questions.
What has been your greatest accomplishment as Dean thus far?
I think I'm most proud of what we've started within the College to recognize and thank our staff and faculty. At the heart of this outstanding academic enterprise is its people. It really is our "secret sauce" – what makes Buchtel College such a great place to live and learn – engaged students who work with amazing faculty supported by dedicated staff.
What do you most hope to achieve during your tenure?
For me, a first-generation college student, it's not at all cliché to speak of the transformative power of higher education. I am excited by the mission-driven purpose of this University – to serve our students and community, to make this a better world for all. I like to remind myself that we are in the business of changing lives that change the world; and I see this transformative process unfold on a daily basis, through the great work of our faculty and the accomplishments of our students. My goal is to work with my colleagues in building a college that delivers a world-class liberal arts and sciences education.
What do you like most about your role / working at UA?
I love leading a college with such a broad focus. From the natural and biological sciences, the social sciences, to education, the visual and performing arts, literary arts and the humanities, we truly do span the spectrum of knowledge and learning. I show up every day, like a kid in a candy shop, eager to learn something new.
What's one thing people would be surprised to learn about you?
That my car's satellite radio is always on two channels: classic country and bluegrass.
Related:
---
Share