ZTV wins fifth Emmy
06/28/2017

Emmys aren't just for national television programming. Regional chapters of the National Academy of Television Arts and Sciences (NATAS) also recognize excellence and professionalism on the local level.

Earlier this year, ZTV at The University of Akron received three Emmy Award nominations in student categories from the Lower Great Lakes Chapter of NATAS. The awards presentation was held June 17 in Cleveland. Representing UA at the event were 17 students and two faculty members, all anxiously awaiting the results.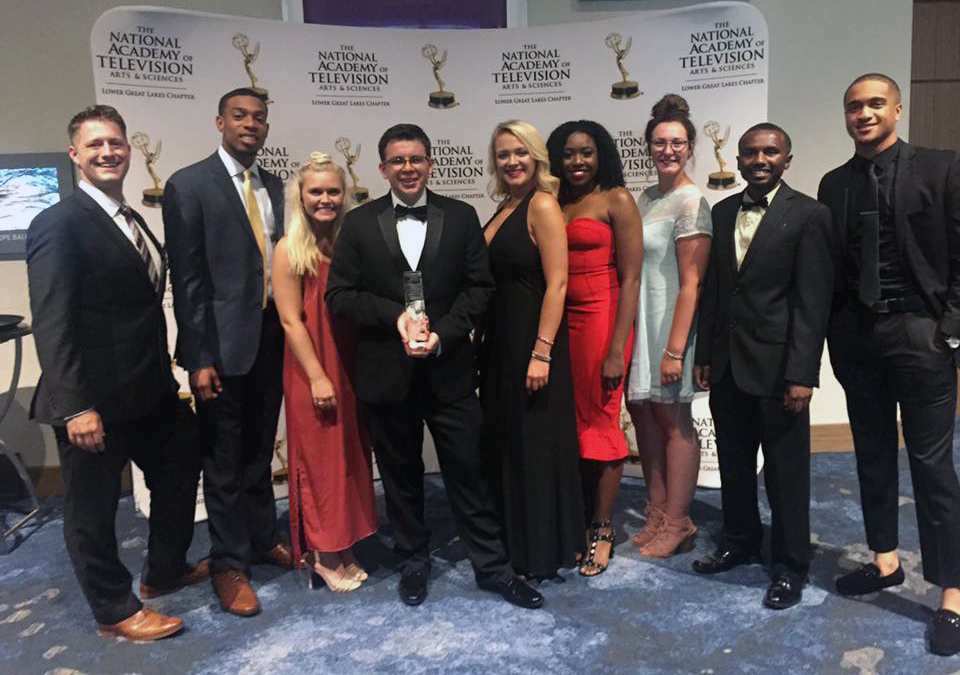 Juan E. Contreras, center, an associate professor of practice and the general manager for ZTV, is seen here holding UA's newest Emmy.
---
Two ZTV shows — "Lights. Camera. Akron." and "300 Seconds of Science" — were nominated in the News and Information Category. The promotional video titled "ZTV: Make Media, Make a Difference" also received an Emmy Award nomination in the Short Form student category for 2017. This makes a total of 26 Emmy Award nominations in student categories.
"ZTV: Lights. Camera. Akron." was awarded the Emmy for Newscast and Information. This is the fifth time UA has won this award. Juan E. Contreras, the general manager for ZTV, said, "People don't know about all of the great things that happen at the University. Opportunities like this provide the limelight these hard-working students deserve."
VIDEO: 300 SECONDS of SCIENCE
---
ZTV is a student-run television station where members get experience in the production of media content. Students learn valuable skills in a professional environment, including: writing for television, producing, video-shooting techniques, lighting, video-editing and more. In addition, students have opportunities to work in the promotion of content using web and social media channels.
The programming produced in ZTV serves a wide range of interests, such as science, sports, news, music and arts, sketch comedy, geek culture and action-adventure.
Visit ZTV online to learn more and see our students' work.
Story by Hayden Grover
---
Media contact: Lisa Craig, 330-972-7429 or lmc91@uakron.edu.