UA's FanTAXtic victory — accounting team earns honorable mention
11/20/2018

It was an unprecedented victory for The University of Akron when a team of undergraduate accounting students clinched a Regional Honorable Mention this past week in the 2018 Deloitte FanTAXtic Regional Competition held in Cleveland.

This is the first year the UA team, comprised of accounting students Kyle Latham, freshman; Samuel McKown and Thomas Rovnak, sophomores; Thomas Steen, junior; and Farah Holozadah, senior; placed in the competition. The team competed against 60 other schools, including others on the Honorable Mention List, such as The Ohio State University and The University of Southern California.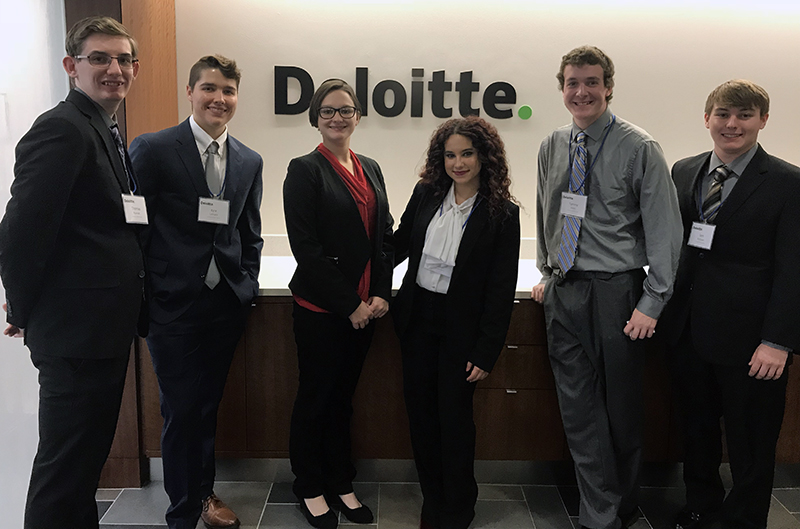 Pictured here, from left, are team members Thomas Rovnak III, Kyle Latham, Miya Timura (alternate), Farah Holozadah, Thomas Steen and Samuel McKown in the Deloitte office in Cleveland on Nov. 10, the day of the competition.
The team is guided by Dr. Melanie McCoskey, an associate professor, and Doron Narotzki, an assistant professor of accounting. Dr. Edward Conrad, an associate professor, and Julianne Jones, an associate professor of practice, also provided feedback.
The competition, sponsored by Deloitte Tax LLP, presents accounting students a unique opportunity to apply their skills to an interactive case study simulation. Success requires students to analyze the case study, role-play with the simulation, and present their findings before judges.
"The case was a real-life fact pattern that Deloitte has encountered frequently since the Tax Cuts and Jobs Act was passed at the end of last year," said McCoskey. "The event provided the students with a real-life situation that they may encounter when they begin practicing accounting upon graduation."
The team's success underlines the strength of the George W. Devario School of Accountancy and its dedicated faculty.
---
Media contact: Cristine Boyd, 330-972-6476 or cboyd @uakron.edu.