UA begins training next generation of crime fighters
02/05/2018

What do cities, businesses and national security organizations all have in common? A growing need for well-trained analysts and for individuals well prepared to prevent crime, provide services to crime victims and rehabilitate offenders.

To meet this increasing demand, The University of Akron has created two new bachelor's degrees to train students on how to tackle those issues and more to become the next generation of professionals in the fields of criminology, criminal justice and beyond – a Bachelor of Science in Criminal Intelligence Analysis, and a Bachelor of Science in Criminology and Criminal Justice.

"The University of Akron is the only state institution in Ohio training aspiring criminal intelligence analysts," said Dr. David Licate, a professor in the new program. "Whether a graduate is in a career assigned to help detectives find a serial offender, track down a terrorism cell, or devise a policing strategy for a crime hot spot," Licate continued, "they will be on the front lines of the next generation of crime fighting."

The new degrees began last semester (fall 2017) and are offered through our Buchtel College of Arts and Sciences. Faculty from three disciplines – criminal justice, political science and sociology – participated in creating the structure and new courses for the new degrees. The interdisciplinary nature of the degrees makes them distinct from other programs.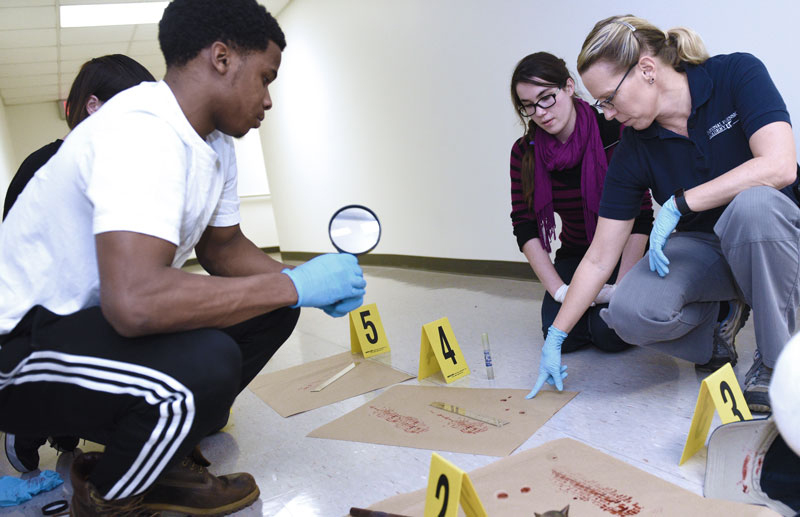 Forensics Lab faculty member Brenda Butler makes a point while examining a mock crime scene with students.
"We are thrilled to be offering these degrees to students and have many exciting courses planned for upcoming semesters. All of the faculty have years of real-world experience in law enforcement, courts and law enforcement, and they are eager to help students learn about the system," said Dr. Nancy Marion, chair of the criminal justice studies program. "Graduates of our program will be qualified to find careers in criminal justice and be successful in them."
Emphasis on analysis
In the first of two new degrees, the B.S. in Criminal Intelligence Analysis will have students pursuing a broad core of courses to learn how to gather, analyze and evaluate information from a variety of sources, including policing databases, surveillance, intelligence networks and geographic information systems. They will learn how to use the resulting intelligence to anticipate, prevent and reduce the opportunity for criminal activity, such as making a crime map to better direct patrols in a high crime area.
A criminal intelligence analyst uses data and information to help criminal justice, homeland security and businesspeople make good decisions on how best to use resources to solve crime and homeland security problems. Analysts must be good at finding and interpreting data, influencing people, warning people about threats, and ommunicating information that keeps a city safe from terrorism and school violence. Analysts can also be instrumental in the writing of successful grant proposals to local, regional and federal funding agencies.
In the second of two new degrees, the Criminology and Criminal Justice program is also an interdisciplinary degree that includes classes from criminal justice, sociology and political science.
"The Criminology and Criminal Justice degree is a more traditional criminal justice degree for those students pursuing a career in policing, courts, corrections, or any field where analytical skills are required," said Dr. Bill Lyons, the interim chair of sociology. Students will take a series of fundamental courses, then choose to specialize in policing, courts, corrections, or criminology.
Wide variety of career paths
Students in this program can choose to study from a range of courses as they seek to understand the causes and consequences of crime, policing strategies and techniques, the judicial process, and different methods of punishment and rehabilitation of offenders for both adults and juveniles. Students will also be well-grounded in the practical application of criminal justice strategies through courses that offer hands-on learning in the crime lab as well as internship experiences in the field. This gives students a broad background and deeper understanding of criminal justice theory, policy, and practice that is unlike any other degree program.
Criminal justice professionals work with a diverse population – from the apprehension, prosecution, and correction of offenders – to serving the needs of victims and the community. They also confront serious social problems such as drug addiction, domestic violence, and mental illness on a regular basis. They can choose to work in the corrections field as a correctional administrator, probation officer, or in substance abuse/mental health treatment. Criminal justice students have also found employment in corporate investigation and fraud examination for banks, insurance companies, and various commercial and industrial organizations. Students may also pursue homeland security careers in counter-terrorism, critical infrastructure protection, and intelligence analysis.
Strong career potential
Both fields are projected to grow much faster than the average, each with a potential growth of 100,000 or more job openings over the period 2014-2024 (U.S. Bureau of Labor Statistics external site). The median wages as measured in 2016 were $78,120 annually for a criminal intelligence analyst and $61,600 for criminal justice and criminology, though salaries for criminal justice and criminology graduates vary based on location.
More information about either degree is available by contacting Dr. Nancy Marion at 330-972-5551 or nmarion@uakron.edu, Dr. David Licate at 330-972-7392 or licate@uakron.edu, or Dr. Stacey Nofziger at 330-972-5364 or sn18@uakron.edu in our Buchtel College of Arts and Sciences. Visit the Criminology and Criminal Justice website.
---
Media contact: Lisa Craig, 330-972-7429 or lmc91@uakron.edu.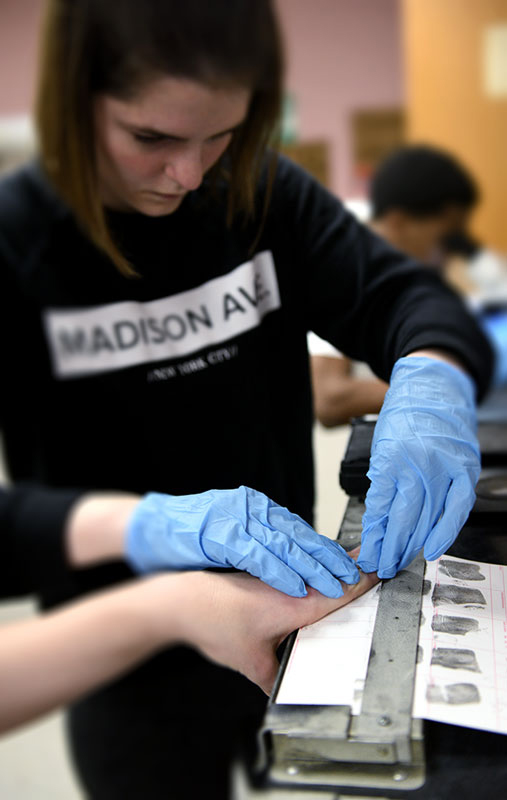 Fingerprinting in the Criminal Justice Forensics Lab.