Promoting a culture of civility
01/17/2019

On the fifth floor of InfoCision Stadium, Interim President Dr. John Green joined Akron-area leaders on Jan. 16 in announcing the creation of the Civility Center to be housed within the Ray C. Bliss Institute of Applied Politics.

The mission of the center, Green explained, is to serve as a resource for individuals, institutions and organizations in the Greater Akron area that are promoting civility and building relationships between and among diverse individuals, institutions and organizations.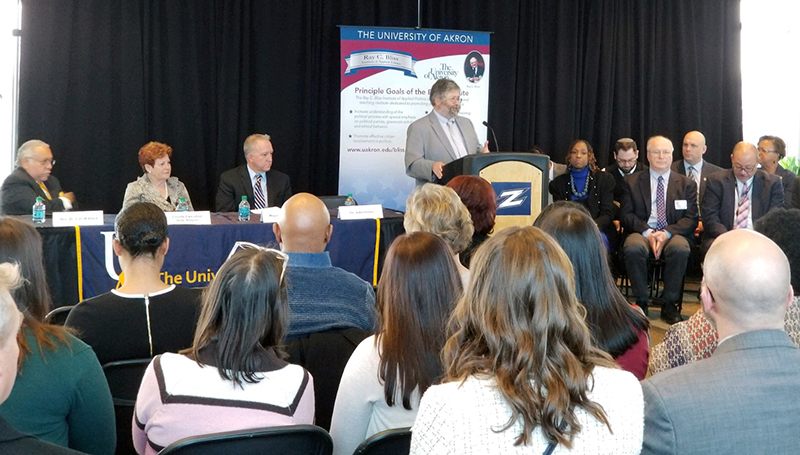 Interim President Dr. John Green speaks during the opening of the Civility Center on Jan. 16.
The center will provide an infrastructure for ongoing work on civility, serving as a place for groups and individuals already working on civility projects to meet and exchange ideas. It also will offer resources on the Civility Center website.
"The key is that the Civility Center is not owned by The University of Akron, it's owned by the community," Green told the crowd at the news conference. An advisory committee has been formed, and the names of its members can be found on the website.
The center will work to encourage civility, as well as discourage incivility, Green explained. To achieve that, standards will be set for people to work toward and be held accountable to.
Plans also call for establishing an annual summit to celebrate civility, and the advisory committee is considering an award for individuals who exemplify civility standards.
Summit County Executive Ilene Shapiro also made remarks at the event, and emphasized the importance of making sure everyone is heard.
"Civility isn't just a word," Shapiro said. "It's a powerful action that leads to dialogue, it leads to solutions and it leads to a common understanding."
Akron Mayor Dan Horrigan also spoke, noting that restoring civility and opening lines of communication is needed to combat a sense of mistrust of government.
"I love opposing ideas," he said. "We learn by listening to people. Respecting others' opinions is where to start. It is mission-critical."
Other communities will eventually want to emulate Akron's work in creating a culture of civility, said the Rev. Carl P. Wallace, minister for special projects at United Church of Christ and a member of the advisory committee, who made the final remarks.
Noting that the launch was the day after Martin Luther King Jr.'s birthday, Wallace quoted King, saying "Time is always right to do the right thing."
The center grew in part out of the Ohio Civility Project, an effort begun in 2010 by UA, the University of Mount Union and Cleveland State University to explore incivility in public discourse.
---
Media contact: Lisa Craig, 330-972-7429 or lmc91@uakron.edu.